Ethnobotany Program
The program teaches local identification of native and invasive plants, plants for use in landscaping or revegetation, indigenous farming techniques, economics of using native plants for new crops, and the transmittal and saving of traditional knowledge to audiences of many ages. 
Ethnobotany Garden
The Ethnobotany Teaching Garden provides a place to enjoy learning about and identifying Alaska native plants for food, medicine, and technology. This garden at the Alaska Plant Materials Center showcases each cultural and ecological region in Alaska with physical features and native plants. Presentations are tailored to meet intertribal group, garden society, school group and general public requests. All programs teach respect for plants, cultures and the earth.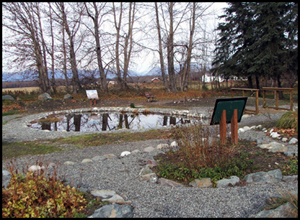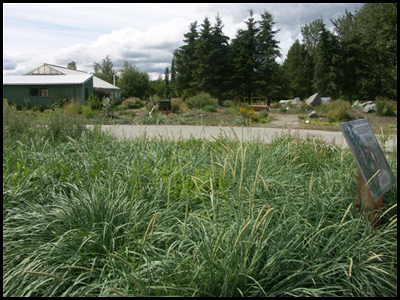 History of the Garden
The PMC started building an ADA accessible Ethnobotany Teaching Garden in summer, 2008. A combination of the cultural and ecological regions of Alaska was used to design the garden. Constructed in the Ethnobotany Garden is Denali, the Yukon, Aleutian Islands, plus imitations of the Arctic, Interior, South Central, Western, and South East Alaska ecologic regions. These regions coincide and represent cultural areas historically lived in by Eyak, Tlingit, Haida, Tsimshian, Athabascans, Iñupiak, Yup'ik, Cup'ik, Aleut, Siberian Yupik, and Alutiiq Peoples.
The plants in the garden are ones traditionally and presently used for food, medicine, and other uses. Approximately 200 different species of plants have been planted in the garden. Each species has an interpretive sign showing a picture of the plant, its common, scientific, and (if known) the native name from the region. The signs also mention at least one use for the plant.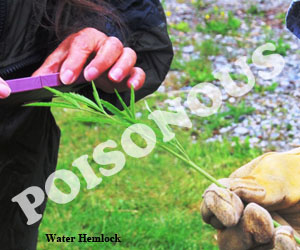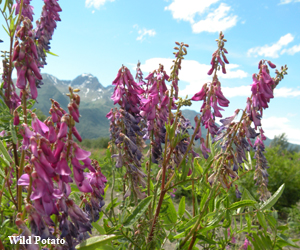 The Ethnobotany Teaching Garden is designed to be used for multi-purposes and many other ways. It can be a self-guided exploration, a place to learn as a group via educator-led programs or as a traditional teaching guide for elders to share with their youth. Topical programs are given weekly throughout the summer. Teachers, garden clubs, cultural groups, and the public are welcome to request a special tour. The minimum number of people for a tour is 5. Tours are free.
For More Information Contact:
1-907-745-4469
---