Invasive Plants and Agricultural Pest Management
Notices
Exterior Quarantine of Aquatic Invasive Weeds
State Establishes Quarantine For Five Aquatic Invasive Plants - Media Release
Why It's A Problem
Invasive plants are typically recognized as non-native species that once introduced accidentally or on purpose, spread beyond control to affect natural and agricultural resources or human health. Not all non-native species are invasive, and many are highly beneficial for agricultural or ornamental purposes.
Prevention
The best way to fight invasive plants is to prevent them from occurring in the first place. You can stop the introduction and spread of invasive plants by following these easy guidelines:
• Confirm that the plants you buy for your land are not invasive.
• Replace any invasive plants with non-invasive alternatives.
• Ask your local nursery staff or state agricultural staff for assistance.
• Clean your boat thoroughly before transporting it to a different body of water
using salt water or water that is at least 140 degrees.
• Clean your bikes, ATV's and other sporting gear before exploring a new area.
• Clean your hiking boots thoroughly before treading in a new area to remove weed
seeds and pathogens.
• Don't "pack a pest" when traveling. Fruits and vegetables, plants, insects,
and animals can carry seeds or become pests themselves.
• Don't move firewood (it can harbor invasive plant seeds).
• Never dispose of aquarium plants into waterbodies.
• Volunteer to help remove invasive plants and educate others about their threat.
How They Spread
Invasive plants are one of the most significant environmental issues in many ecosystems.
They can reduce biodiversity, degrade habitat, and transform ecosystems to less robust and less desirable states.

Most invasive plants aren't introduced randomly. They are often found along well traveled corridors in suitable habitat. Roads and trails are succeptible to invasive plants and allow invasive plants to move into adjacent lands. Once the soil has been canopy is disturbed, invasive plants can often be found.
What is Early Detection and Rapid Response (EDRR)?
The goal of EDRR is to find and control invasive plants when populations are first becoming established. Similar to a garden, a few weeds are easier to control than a large number of them. Controlling large infestations is extremely expensive and not as likely to succeed as managing
small infestations. Informed citizens on the lookout for invasive weeds are essential to an effective EDRR program.

How You Can Help
Visit the individual Plant Profiles (Canada Thistle and Elodea) pages and the Report These Invaders page for information on what plants we are currently managing.
Request a Pocket Guide:
The Division of Agriculture has a handy pocket guide available to aid in the identification of invasive plants. Selected Invasive Plants of Alaska, by the USDA and US Forest Service is available for free. To receive one, provide your name and a mailing address to the email address below. You can also call the Plant Materials Center at (907) 745-4469 to request a copy.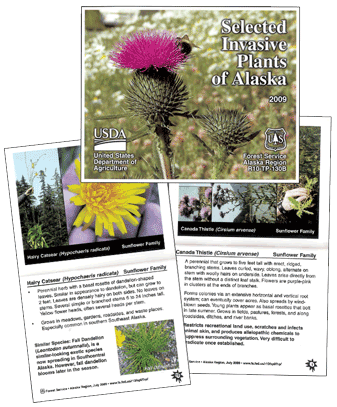 Brianne Blackburn,
Invasive Species Coordinator
Alaska Plant Materials Center
5310 South Bodenburg Spur
Palmer, AK 99645
brianne.blackburn@alaska.gov .
REPORT IT!
1-877-INVASIV (468-2748) or contact:
Brianne Blackburn
Invasive Weeds and Agricultural Pest Coordinator
Brianne.Blackburn@alaska.gov
1-907-745-8785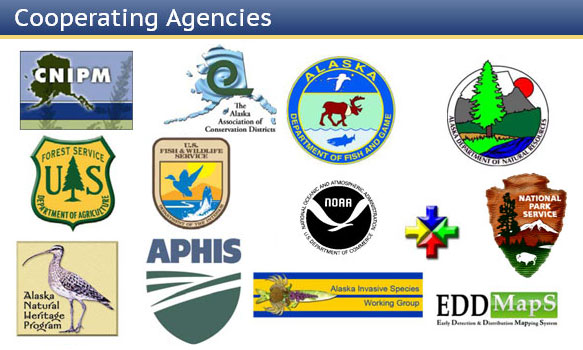 ---