Division of Agriculture
To promote and encourage development of an agriculture industry in the State.
The goal of the $5 Alaska Grown challenge is to encourage consumers to spend at least $5 a week on Alaska Grown products. If every household did this for just six months, they would put $33 million dollars in to retailer's stores and farmer's pockets and have a profound effect on Alaska's economy and food security.
This challenge is an opportunity for a friendly competition amongst retailers to promote Alaska Grown…. Is your neighborhood store participating? If not be sure to ask your store manager, why they are not part of this fun competition!
Throughout the season, retailers are scored on their Alaska Grown displays.
Stores are judged on creativity in how they promote, and display Alaska Grown in their store as well as the variety of Alaska Grown products they carry.
At the end of the season, the store that scored the highest will win the Golden Carrot award!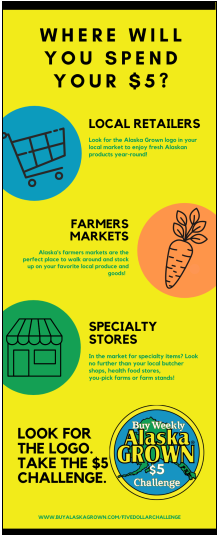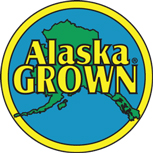 Check out the Alaska Grown Website
http://buyalaskagrown.com