2022 Microgrants for Food Security 2022
MICRO-GRANTS FOR FOOD SECURITY 2022 UPDATE
The recent Micro-Grants for Food Security application period closed on March 30, 2022.
Each year, the process has changed a bit. Please understand that we are doing our best to serve Alaskans. Answers are grouped below by grant cycle year; please pay attention to your year.
The Division of Agriculture is proud to announce that the USDA has approved our current grant year's fixed amount Individual awardees!! Organization applications are still under review, but those should be announced in September.
An email will be sent to every applicant via SmartSimple letting you know if your project was approved or declined. If you are an individual and do not receive an email by September, please email the grants team to check the status of your application at dnr.ag.grants@alaska.gov.
Next Steps:
--Over the next few weeks DocuSign envelopes will be going out to all awardees. This document must be filled out completely and accurately to be set up as a vendor with the state to receive payment. This step MUST be completed before signing your contract
--Once you have completed the W9 and the information has been verified, vendor services will set you up as vendor
--After being set up as a vendor your will be emailed your vendor number
--Upon receiving your vendor number you will be sent your contract also sent via DocuSign for you to sign
--All APPROVED projects will have contract period of March 1, 2023-February 29, 2024. You will not receive your first payment of half your funds until March and will not be reimbursed for anything bought prior to March 1, 2023
Applicants who were not awarded can re-apply for a Micro-grant for food security during the next offering.
Applicants needing to cancel their applications or update their contact information can notify us by email at dnr.ag.grants@alaska.gov.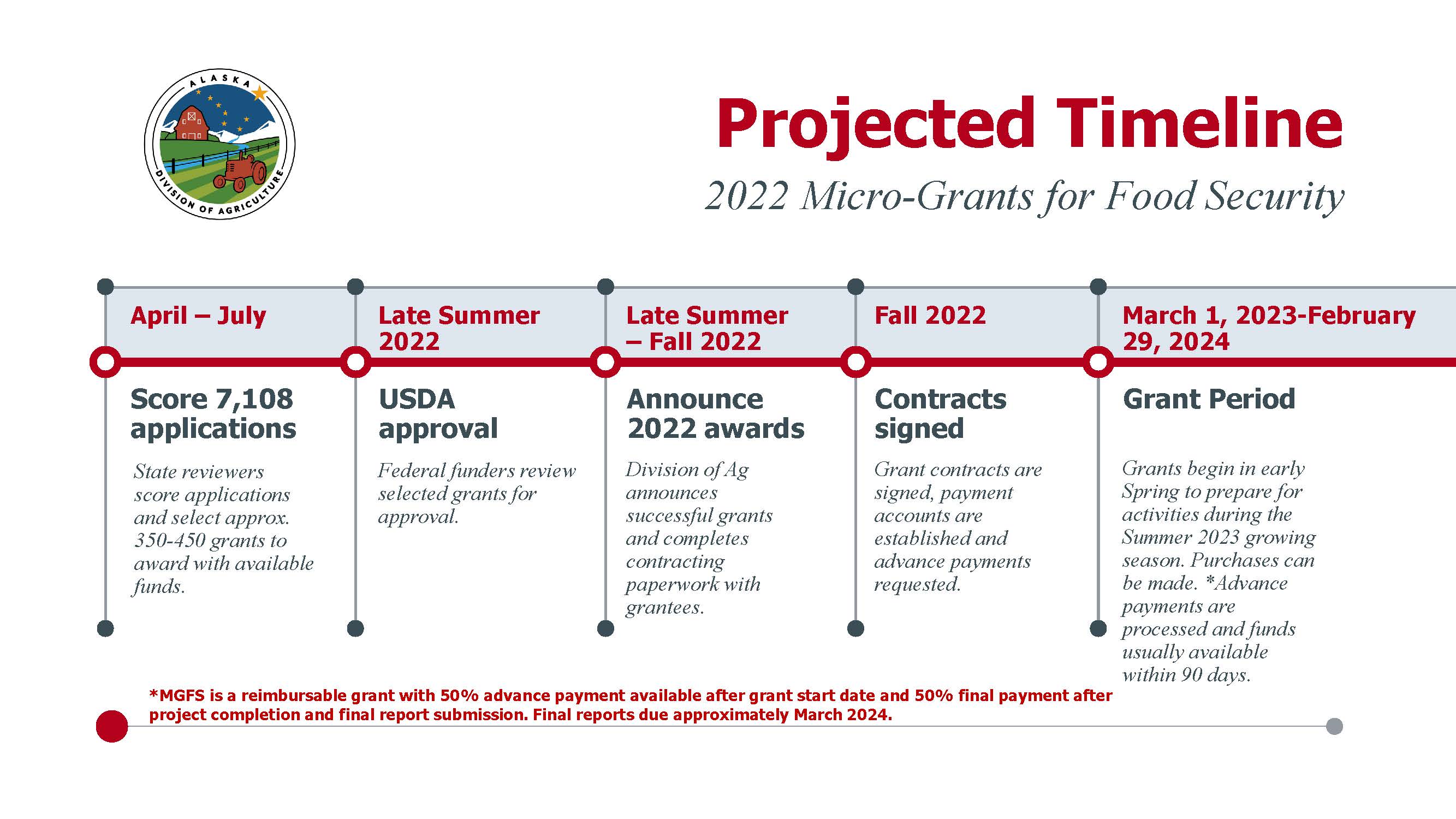 Frequently Asked Questions for the 2022 program:
When will I know if I have been selected?
You will be notified via email from the Division of Agriculture SmartSimple system if your project has been accepted or declined.
I submitted my application in February, why is it taking so long to find out if I have been selected?
Please note that Alaska's Micro-Grant for Food Security is a USDA federal grant, administered by the Alaska Division of Agriculture. USDA requires that all applications be equally reviewed and scored. With over 7000 applications received, please understand it will take some time to review this year's applications.
When will I be able to start my project?
You may not start your project until selections have been made AND you have a signed contract that will include a start date and completion date. Please refer to the timeline for anticipated dates. We will update this as the process progresses.
Can I spend money now?
No, you may not begin to spend money for the project until a completed contract has been issued and completed with the State of Alaska. The contract will include the start date and completion date during which you may spend funds for the project.
If I have already started my project, may I still submit for reimbursement?
This grant does not allow retroactive reimbursements nor reimbursement of unallowable expenses. No purchases are allowed before the grant contract's project start date.
How is the grant paid?
Grant funds will be released in only two payments: 50% prepayment and the remaining 50% after a complete report is submitted with evidence of project completion. After contracting it may take 90 days or more for the first payment to be received. Final reimbursement may also take another 90 days or more after submission of the final project report and final payment request.
Why can't I see my project in SmartSimple?
Once the applications are moved to the reviewers, they are no longer accessible until the awards are selected and recipients are notified. If your project was successfully submitted, an email was sent which included a project summary. If you did not receive one, check your junk mail.
I need to change my project; how do I do this?
While we understand that many changes can take place in the wait time between submitting applications and signing final grant contracts, this grant does not allow changes to proposed project locations, costs or activities.
I bought a new house, property, how do I change my project location?
You cannot change the location or any other part of your application once the grants application is closed. If you have moved, and no longer cannot perform the project at the designated location, you will need to withdraw your project application.
How long do I have to complete my project?
Project start and end dates will cover a one-year period, this period will begin when contracting is completed. We anticipate this to be Spring 2023-Spring 2024.
I need to withdraw my application, whom do I notify?
Please send an email to dnr.ag.grants@alaska.gov with a statement that you wish to withdraw your application, the name, email address and project name of the proposal submitted.
How do I find out the status of my grant?
All submitted proposals are under review. Our reviewers are working hard to complete the required reviews as soon as possible. When these reviews are completed, USDA will complete a final approval. When the USDA has completed that review, applicants will be notified of their status by email if they were awarded or declined. We ask that you do not call or email the staff concerning the status of your application. We will provide updates on this website.
MICRO-GRANTS FOR FOOD SECURITY 2021 UPDATE
2021 Micro-Grants for Food Security have been awarded and are currently ongoing. Please refer to the timeline below for updates on this first cycle of micro-grants. Grantees may email dnr.ag.grants@alaska.gov for further assistance with their grants.

Final Microgrant for Food Security Projects awarded 2021

Frequently Asked Questions for the 2021 program:
I have received my first payment how do I get more of my funds?
FOR THE 2021 GRANTS ONLY: Individual applicants should have received pre-payment of 50% of their grants. The final payment request cannot be submitted until you have, all receipts accounting for the project, and your final report completed. Final reimbursement may take 90 days or more after submission of the project receipts, final project report and final payment request.
I have not received my first payment for my project, what do I do?
To verify that your payment was sent, you can contact dnr.ag.grants@alaska.gov. Payments for individual and individual group projects were mailed to the address you provided on the W2 forms submitted at contracting. If you are an organization, advance payments must be requested by submitting an Advance Payment Request form to dnr.ag.grants@alaska.gov.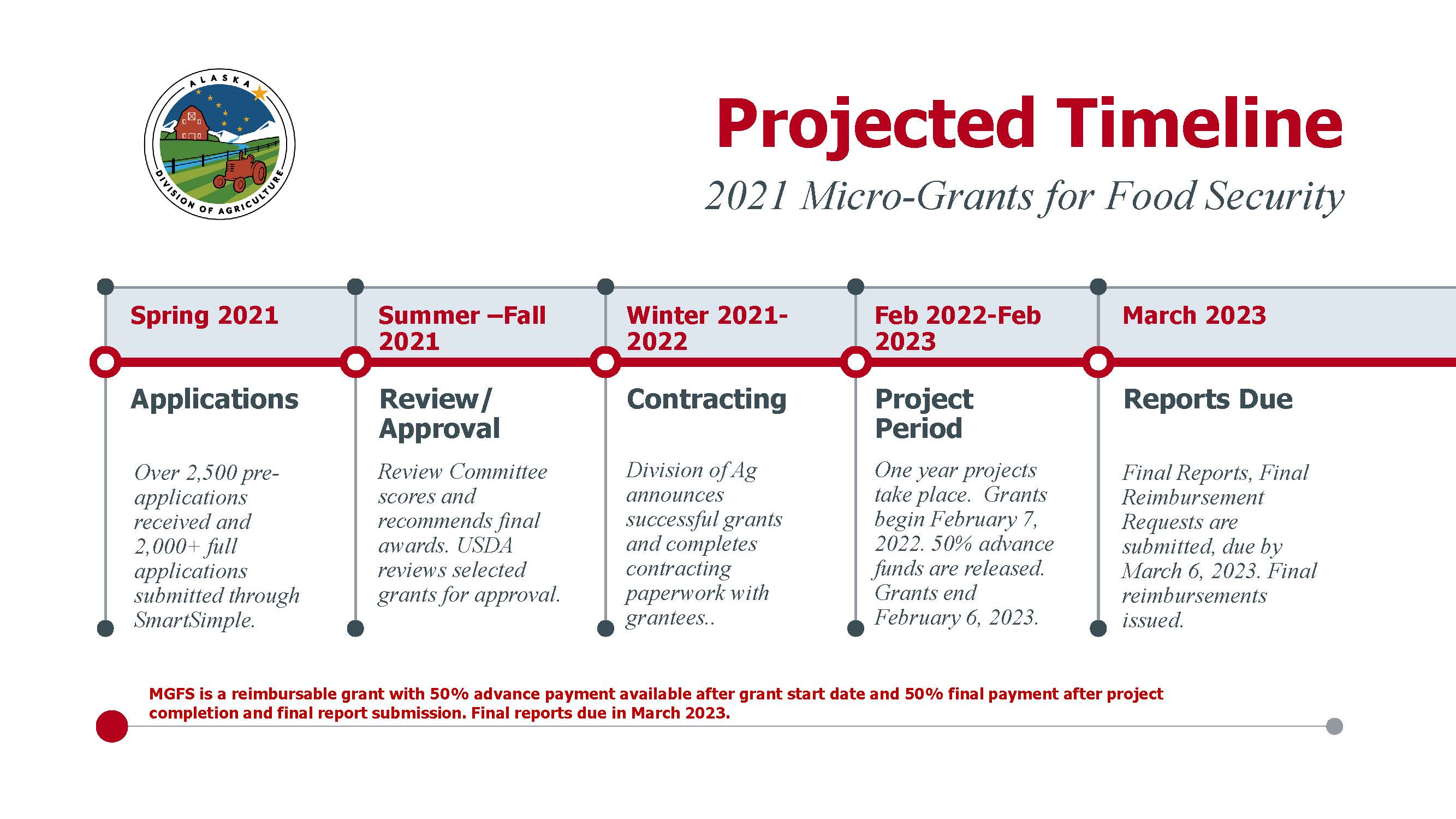 Specialty Crop Block Grant 2022
Applications for the Specialty Crop Block Grants for FY 2022 are closed.
Award announcements are expected in Fall 2022.
SPECIALTY CROP BLOCK GRANT 2022 UPDATE
The SCBG grant program seeks to increase production, consumption, access, knowledge, and sustainability of Alaska Grown specialty crops, sustain farmers' livelihoods, and strengthen local communities. Grants are awarded to professional producers, producers, universities, extension services, soil and water conservation districts, or schools working in cooperation with a business or non-profit. Grants must meet the objectives of promoting the specialty crop industry.
The U.S. Department of Agriculture defines specialty crops as fruits and vegetables, tree nuts, dried fruits and horticulture and nursery crops. Many Alaska Grown products - including most livestock, dairy, fuel/feed grains, hay, and some forms of aquaculture - are excluded from the grant program, due to USDA restrictions. A list of USDA-eligible specialty crops is at: https://www.ams.usda.gov/services/grants/scbgp/specialty-crop.
Announcement of Awards occurs after USDA approves the Alaska State Plan, anticipated to be in early fall of 2022.

2022 SCBG Scoring Criteria