Designations and Incentives
Designations and Incentives Quick Links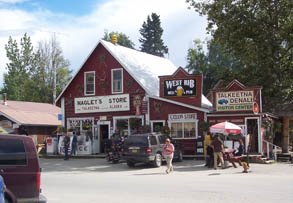 Nagley's Store - Talkeetna
Natives and Euro-American visitors and settlers gave names to many geographic features in Alaska. A record of officially recognized Alaska geographic names is in the Geographic Name Information System (GNIS). The Alaska Historical Commission is designated by statute as the state review board for names of lakes, streams, mountains, and other physical features. The commission coordinates with the U.S. Board on Geographic Names (USBGN) for name decisions for federal maps, particularly those of the U.S. Geological Survey (USGS).
---
Historic Preservation Fund Grants
Ten percent of the annual Historic Preservation Fund grants to Alaska are dedicated for Certified Local Government (CLG) projects. The Office of History and Archaeology solicits for applications, and the Alaska Historical Commission reviews them based on priorities it establishes for funding and makes recommendations to the State Historic Preservation Officer. Survey, inventory, preservation planning, National Register nomination, public preservation education, predevelopment, development and acquisition projects are eligible for program funds.

On occasion, the Office of History and Archaeology has matching funds for non CLG related predevelopment and development projects. These funds are available to assist owners of properties listed or eligible for listing in the National Register of Historic Places. When funds are available, a call for project proposals is advertised statewide.
---
Easements
Historic preservation easements are legal agreements that protect a significant historic, archaeological, or cultural resource. An easement provides assurance to the owner of a historic or cultural property that the property's intrinsic values will be preserved through subsequent ownership. In addition, the owner may obtain substantial tax benefits.
---
Federal Tax Credits
The Federal Historic Rehabilitation Tax Credit gives: A 20% tax credit (not just a deduction) to owners who rehabilitate certified historic buildings in accordance with the Secretary of the Interior's Standards for Rehabilitation or a 10% tax credit to owners who renovate non-historic buildings constructed before 1936. The Federal Historic Rehabilitation Tax Credit is based on a percentage of the rehabilitation costs and does not include the purchase price..