15,000 years ago, a global warming began and a climatic optimum, called the "Bölling-Allerød" was reached around 14,700 years ago. The earliest known archaeological remains in Alaska date to this time. A land connection still existed between Alaska and Siberia, and the landscape was open grassland and parkland, before the forest was established. Cultural Zone 4 at Swan Point (Excavation Levels >14) is unique in Alaska, in both its age and stone tool technology. Artifacts include: scrapers, diminutive lanceolate point forms, dihedral and transverse burins, and a distinctive microblade industry. The "Yubetsu" or "Dyuktai" microblade production technique is prevalent in the earliest materials, and suggests that a common culture was widespread across northeastern Asia, Siberia, and eastern Beringia (Alaska) during the Late Pleistocene.
The term East Beringian tradition (EBt) is an archaeological term used to describe these earliest Alaskan assemblages, and includes the cultural materials from the Beringian and early Transitional environmental periods. The EBt is divided into three archaeological (cultural) phases. The EBt phases are delineated by radiocarbon dates, stratigraphy, and artifact assemblage and spatial patterns, and include Cultural Zones 4 and 3 at Swan Point. Cultural Zone 4 belongs to the warm "Bölling-Allerød" period and Cultural Zone 3 ends shortly after the harsh "Younger Dryas" cool period.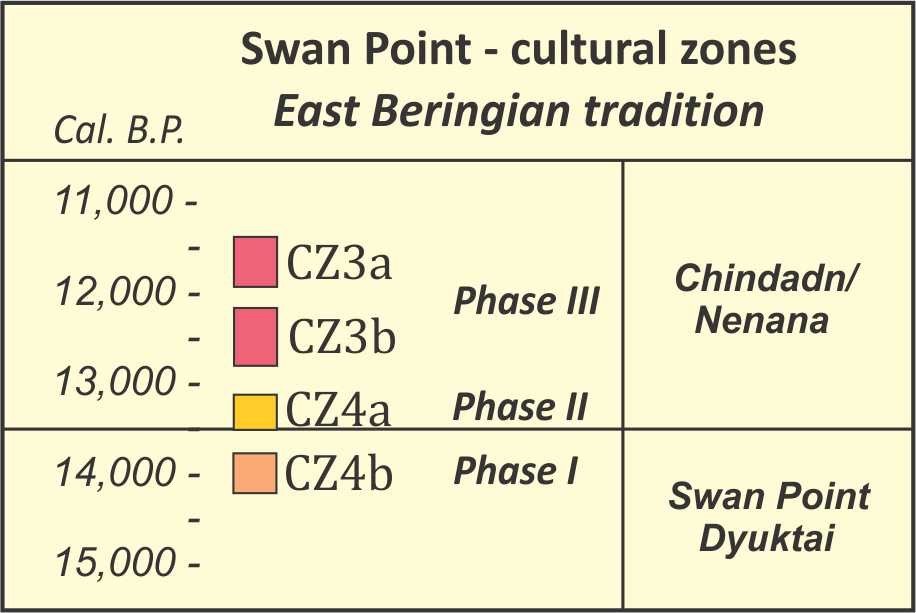 EBt Phase 1: Swan Point Diuktai (CZ-4b), is dominated by microblade/burin technology and the use of tusk ivory and antler raw material. Recovered faunal remains suggest that mammoth, horse, bison, elk, swans, geese, and other birds and small mammals were hunted. Phase 1 hearths are defined by concentrations of burned bone, burnt residue, and soot stained artifacts. Our working hypothesis is that campfires were fueled by bones of large animals because of the scarcity of wood for fuel (B. Crass bone-burning reference). Gas Chromatography-Mass Spectrometry was used to analyze concentrations of saturated Fatty Acid Methyl Esters (FAMEs) from burnt residues in hearths. The resultant FAME patterns are consistent with burning bones of large ruminants (e.g., bison, elk) as well as monogastric herbivores (e.g., rodents, hare, horse, mammoth). Phase 1 at Swan Point is dated between 14,200 to 13,800 calBP.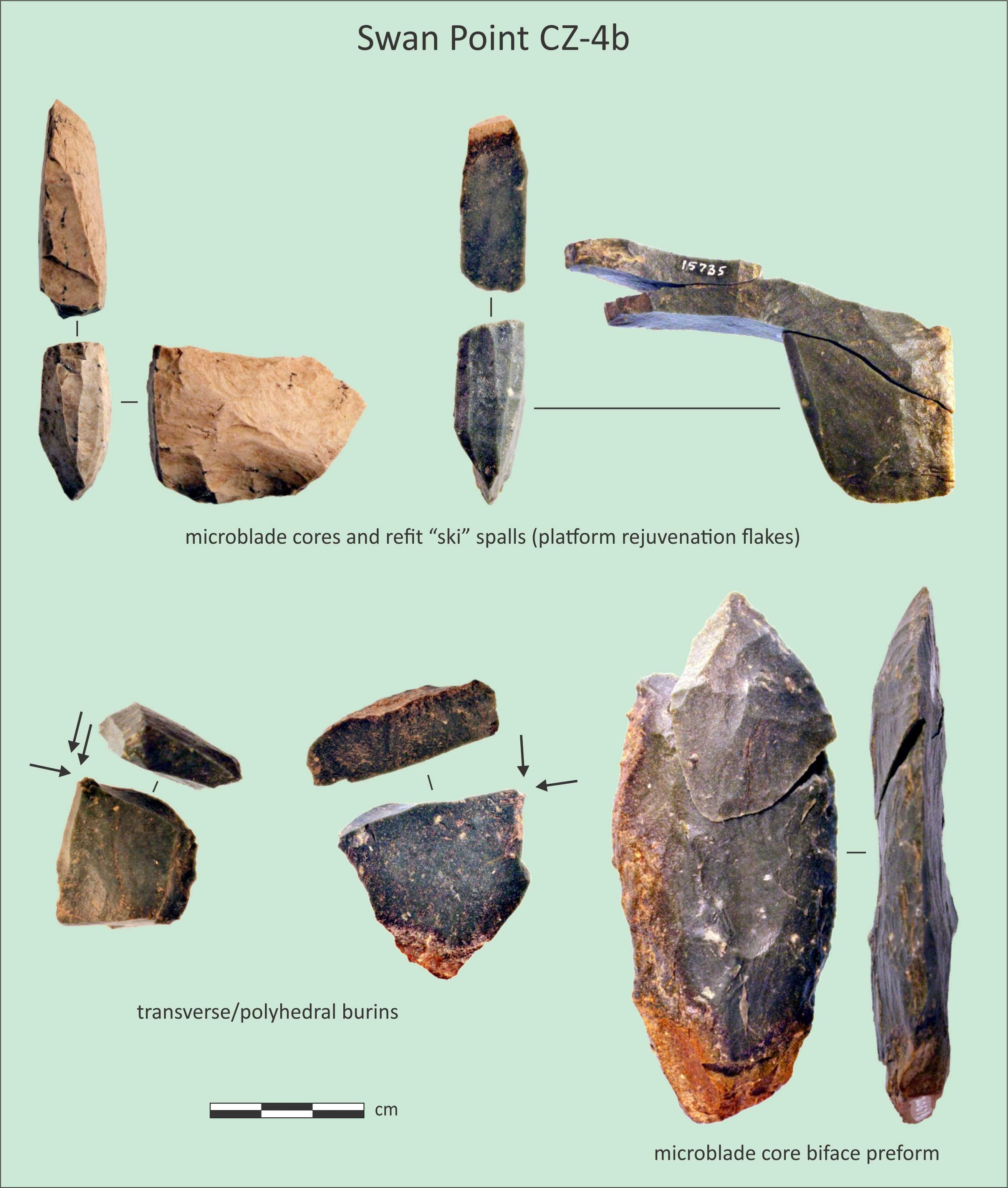 EBt Phase 2: (CZ-4a) This phase dates between ca. 13,500 and 13,100 calBP and contains diminutive lanceolate biface forms unlike Chindadn/Nenana bifaces. This component is difficult to characterize because of the small number of artifacts recovered thus far.