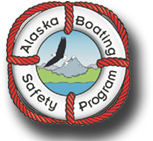 Boating Checklist
Don't let a forgotten item or equipment problem spoil your boating trip. Be sure to develop and use a pre-departure checklist. A downloadable version is available here.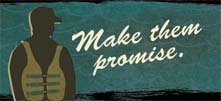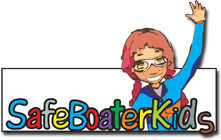 Powerboat Pre-Departure Checklist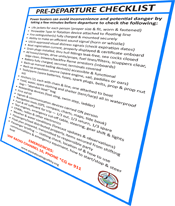 Before each departure, be sure your boat is in good working condition, is properly equipped for emergencies and that passengers are properly briefed. The Alaska Office of Boating Safety is offering a free Powerboat Pre-Departure Check List to assist boaters in pre-departure preparation.


Note: you must have Acrobat Reader 3.0 or greater to open a pdf file. Go to the Adobe Acrobat website to download this free software.

PDF Version of the Pre-Departure Checklist

You can also obtain a paper copy by contacting:
Joe McCullough, Program Coordinator
Division of Parks & Outdoor Recreation
Office of Boating Safety
550 W. 7th Avenue, #1380
Anchorage, AK 99501-3561
(907) 269-8704 phone
(907) 269-8907 fax
email:Joseph McCullough