Shuyak Island State Park
Shuyak Island Terrain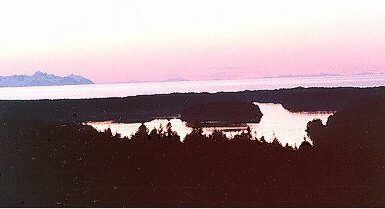 Shuyak Island State Park comprises most of the island's 47,000 acres. The park encompasses part of a coastal forest system, unique to the Kodiak Archipelago, which contains only one tree species: Sitka spruce. Besides a virgin Sitka spruce forest, the park includes miles of rugged coastline, beaches and protected waterways.

The island is located 54 air miles north of Kodiak, Alaska. Shuyak Island's compact dimensions measure 12 miles long and 11 miles wide, but contain more sheltered interior waterways than anywhere in the Kodiak Archipelago. The land and water of the area host an infinite variety of seabirds. Otters share the sea with whales, harbor seals, sea lions, and Dall porpoises. Kodiak brown bear and Sitka black-tailed deer inhabit the island's forests.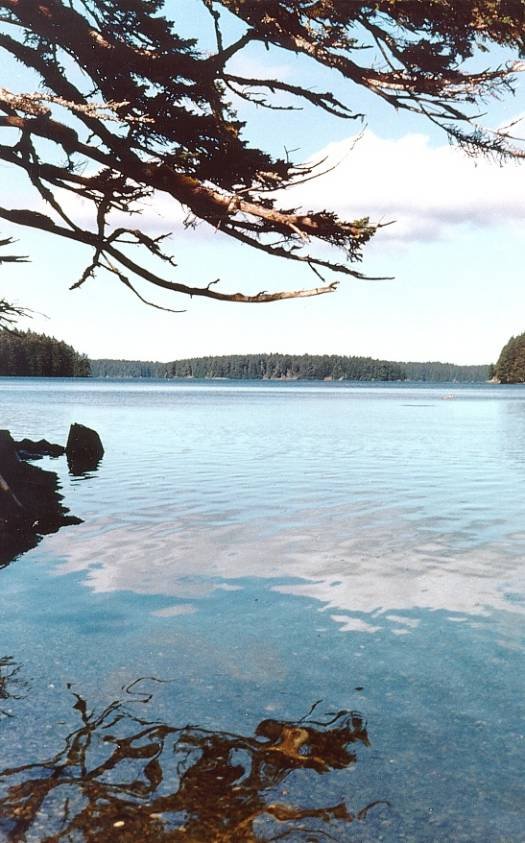 If you visit Shuyak, you may either camp or rent one of the four Public-Use Cabins. Groceries and other supplies must be purchased before you arrive on Shuyak. A state park ranger or volunteer may contact you during your visit. Our staff is there to assist you. They may be able to provide communication to the mainland, but only in an emergency. Visitors should be as self-sufficient as possible; assistance could be hours or days away. The Shuyak experience is one of the wilderness. Those who have planned their trip carefully find the greatest rewards.


Wildlife Viewing/Photography
In addition to the wildlife already mentioned, visitors can view puffins, black oystercatchers, cormorants, common and red-throated loons, mergansers, harlequin ducks, and bald eagles. Migrant birds arrive in May and June. Plant enthusiasts can find alpine botany at sea level on the rugged capes along the outer coastline.


Hiking
There are few hiking trails within the park, and thick forests and Devil's Club make overland travel challenging. Shorelines provide routes of travel but may be covered with water during high tides. Shuyak is best experienced combining land and sea travel. For more information, see the Shuyak Island Trail Network page.


Weather
Shuyak Island is at the tip of the Kodiak Archipelago and is subject to severe and unpredictable weather. Sea conditions can deteriorate rapidly: large swells, rough seas, high winds, and heavy surf occur frequently in open waters. The inner bays are generally protected, but in either area in these waters hypothermia can set in within minutes. Generally, rainfall averages about 4-6 inches per month in the summertime. Temperatures (Fahrenheit) range from the low 40's to the low 60's.


Boating
When conditions are poor, be patient and wait for the weather to improve. Rescue assistance could be hours or days away.


Bears
A limited number of Kodiak brown bear (Ursus arctos) are found on Shuyak Island. Use caution and avoid surprise encounters; these animals are potentially fierce. Do not leave any food items outside of cabins or otherwise accessible to bears. Discard fish and animal entrails in ocean water.  For more bear safety tips, see our page on Bear Safety.


Weapons
Weapons are allowed in the park for hunting or for personal protection from wildlife. Shooting within one-fourth mile of any cabin is prohibited. Target shooting is not allowed in the park.


The Public-Use Cabins 
| | |
| --- | --- |
| Mulcahy View Cabin on Neketa Bay | Two Public-Use Cabins are located on Big Bay. Carry Inlet and Neketa Bay each have one Public-Use Cabin. Each cabin can accommodate up to eight people. The fee for the cabin is $75 for peak use and $60 non-peak use per night. This is a flat fee; it does not change according to party number. Cabins are rented to only one party at a time. Visitors can stay in the same cabin for up to seven consecutive nights per month. |
What's provided

Fresh water is available at all cabin sites but requires rapid boiling for five minutes or filtration by devices effective to less than five microns to protect against natural contaminants.



Each cabin has a woodburning stove adequate to heat the 12' x 20' structure. Firewood is provided, but must be split. Tools are also provided.



A gravity-fed water system is plumbed into each cabin. Water must be hand-carried for this system. Water jugs are provided.



A shower building is beside each cabin and provides a warm gravity-fed shower after water is heated.



Each cabin contains a basic supply of cooking pots, pans, and utensils for four to six people. Some people prefer to bring additional cookware.



Each cabin has four double bunk beds to sleep eight people. Foam pads are provided.


What to Bring
· Full body raingear
· Gloves, hat, waterproof boots, tennis shoes
· Extra food/clothing
· Sleeping bag/towels (blankets not provided)
· First aid kit
· Matches in waterproof container
· Topo maps: Afognak C-1,2,3, and B-2
· Compass and tide book (use Seldovia tables)
· Watercraft/motor
· Lantern
· Portable Cook Stove
· Fuel
Additional Items for Boating
· Life jackets
· Signal devices
· Extra line
· Extra fuel (none available in park)
· Anchor gear, oars, paddles
· Marine VHF or CB
· Nautical chart #16604, Shuyak and Afognak
· Emergency Locator Transmitter
· Portable camp stove and fuel


Other helpful links:
Getting to Shuyak Island
Shuyak Island State Park Public-Use Cabin Location Map
Specifics on Shuyak Island cabins
General Cabin Reservation Information
Kayaking at Shuyak Island
Hunting and Fishing at Shuyak Island
Shuyak Island Trail Network
Shuyak Island Trails Map
Shuyak Island Natural History
Big Bay Ranger Station
Shuyak Island Cultural History