Fort Abercrombie State Historical Park
The Fort Abercrombie State Historical Park Summer Naturalist Program and Tidepooling program will begin Friday, June 15th. Join the Park Naturalist as they explore the history and ecology at Fort Abercrombie.

These events are free thanks to Friends of Kodiak State Parks, which is supported by donations and the Bookstore located at the Visitor Center. Please check the link below or call the park office at 486-6339 with any questions.
2016 Ft. Abercrombie Park Puzzle
The park puzzle is a wonderful way to see Ft. Abercrombie State Historic Park and learn about its history. You get to enjoy some of the WWII remnants, fantastic scenery and coastline while walking on the park trails to solve the puzzle, which starts at the main entrance and ends near the Kodiak Military History Museum.


---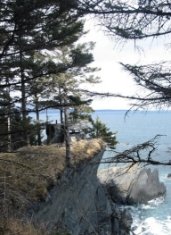 Fort Abercrombie SHP
Few other units of the Alaska State Park System,which are comparable in size, possess the cultural and natural resources that are found in Fort Abercrombie.

The historic ruins of a World War II coastal defense installation coupled with the steep surf-pounded cliffs, deep spruce forests, meadows laden with wildflowers, and a lake containing trout offer the public a unique opportunity to learn of the events of World War II while enjoying the natural beauty of the park.

Fort Abercrombie became a park unit of the State Park System in 1969. 182 acres of state land was set aside to be managed by the Division of Parks and Outdoor Recreation for the enjoyment and preservation of the areas unique historical and natural features. In 1970 Ft. Abercrombie was listed on the National Register of Historic Places and in 1985, the park was designated a National Historic Landmark.


The campsites at Ft.. Abercrombie are designed primarily for tent campers. R.V. campers are encouraged to use the overflow parking area or visit Buskin River State Recreation Site as vehicles over 20' will have difficulty maneuvering on the narrow, rustic roads.

A group recreation site with a pavilion is available with reservations. Kodiak State Parks Headquarters and Visitor Center are located here. The park is approximately 3 miles north of the town of Kodiak.

To reach the park from the ferry dock, go west on Center Street, and make a right onto Rezanof Drive. Follow Rezanof for 3.7 miles. Turn right onto Abercrombie Drive which leads to the park. If starting from the Kodiak State Airport, make a right onto Rezanof Drive. Follow Rezanof for 8.5 miles. Turn right onto Abercrombie Drive.

Starting March 1, 2016 Day use parking fees will be in effect for Ft. Abercrombie SHP, Buskin River SRS, and Pasagshak SRS at the rate of $5 per day or $50 for an annual pass.



Other helpful links:
For more information - Interpretive Panels
Ft. Abercrombie Trail Map
Fishing at Lake Gertrude (Abercrombie Lake)
Ft Abercrombie's Historical Significance
Kodiak Military History Museum
Citizen Advisory Board
Ft. Abercrombie Historical Park Master Plan

Return to Kodiak State Parks Recreation Guide