Kenai River Special Management Area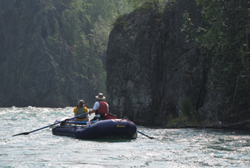 Knowledge, skill and vigilance are required to operate a boat safely - especially with crowded boating conditions and natural and man-made hazards. Please learn the US Coast Guard "rules of the road" for your safety and others. Non-motorized boats and boats drifting downstream have the right-of-way. Boats under power headed or pointed upstream must yield to other traffic. Between May 15 and July 31, it is illegal to anchor in a manner that obstructs a primary traffic channel or fishing channel of any section of the Kenai River. Power boats are limited to 6 passengers on board, including the operator.

Boat operators are legally responsible for their boats' wake and any damage it causes. Please travel mid-river whenever possible. Use appropriate speeds and keep wake to a minimum to reduce bank erosion and silting of spawning beds. Approach other boats and property, such as docks, carefully.

US Coast Guard approved life jackets should be worn and must at least be readily accessible. State law requires that life jackets be worn at all times by children under the age of 13. Boating accidents usually result in hypothermia or drowning, due to cold water immersion and fast currents. Dress appropriately and help those in need. The Kenai and Skilak Lakes are very cold and subject to sudden high winds which kick up choppy waves. Stay on shore in bad weather.

http://www.youtube.com/watch?v=fNnUJiMn-3E&feature=channel_video_title
Most boating fatalities in Alaska involve cold water immersion resulting from a person falling overboard or a boat capsizing. Based on the most recent information available, the Alaska Office of Boating Safety offers presentations describing the effects of cold water immersion and actions you can take to increase your chances of survival. The Office of Boating Safety has also produced an award winning video, Cold Water Boating, which can be viewed by clicking on the link above.
For more information or to request a presentation for your agency or organization, contact Joe McCullough at (907) 269-8704 or joseph.mccullough@alaska.gov
Regulations and Courtesy
The river is for everyone's enjoyment - there is no such thing as a personal fishing hole. Courtesy and common sense make everyone's experience more enjoyable. Fishing regulations may change annually or by emergency order, so check current regulations before fishing. Complete harvest records immediately for king salmon or rainbow trout you keep.

Different fishing methods are popular in different river reaches - please don't buck the trend. Drift fishing through backtrollers, or backbouncing or backtrolling in the middle of an occupied drift is not only discourteous, it is dangerous. It may cause confusion, tangled or cut lines, hot tempers and accidents.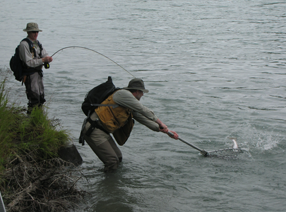 Landing a salmon on the Kenai River is a challenge in itself. A net held in the air, or in an upright position, means that someone in that boat has a "fish on". Help those lucky enough to hook one by pulling in your line and steering your boat out of the way.

Fish experience shock when caught. Treat a fish you intend to release carefully and release it before it is totally "played out". Remove the hook while the fish is in the water and if it cannot be released easily, cut the leader. An exhausted fish may need to be gently supported in the water. Breakaway sinker rigs greatly reduce gear lost to snags and help prevent disruptions to others. It is illegal to gaff fish on the Kenai River or to lift any fish you do not intend to keep out of the water.

Alaska State Parks would like to remind boaters that 2008 regulations phasing out the use of older, two-stroke outboard motors in the Kenai River Special Management Area (KRSMA) have been fully implemented. Two-stroke motors that do not employ direct fuel injection technology can no longer operate at any time of year in the special management area, which extends from one mile downstream of the Warren Ames Bridge to the Cooper Landing area and includes both Skilak and Kenai Lakes. The majority of the Kenai River SMA is closed to jet skis, hovercraft, airboats and water skiing. A large portion of the upper Kenai River is a "non-motorized area". Please contact one of the offices listed at the end of this page for further information.


Kenai River Guides
Guides must have a state park commercial use permit and meet safety training and insurance requirements. It is illegal to book a fishing trip or pay someone for guide service who is not a registered guide within the Kenai River SMA. If you use a guide service, be sure the vessel displays current Kenai River guide decal, a large three digit boat number and the Kenai River SMA guide identification card. You may report violations involving guides to Alaska State Parks at (907) 262-5581. A list of permitted Kenai River guides is available at the Gilman River Center at (907) 260-4882.

Return to top of page


Please Protect River Resources

 Camping is allowed only in developed campsites. All undeveloped lands and islands are closed to camping. There are many areas, including the islands below Skilak Lake, which are closed to bank fishing during sockeye season. Please consult the Fish and Game regulations for a listing of these closures.



 Litter spoils the area for others and for wildlife. Carry out everything that you bring into the park, including food scraps, packaging and cigarette butts. Put fish entrails into the river or carry them out; do not leave them on the bank.

Kenai Watershed Forum Stream Watch, founded by the U.S. Forest Service in 1994, is a national award winning volunteer program that promotes river stewardship on two world-class sockeye salmon fisheries on Alaska's Kenai Peninsula - the Russian and Kenai Rivers. Become a Stream Watch Ambassador this summer!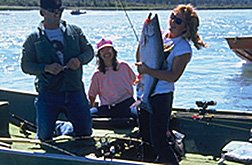 Discharge of firearms is prohibited in the Kenai River SMA except for lawful hunting and trapping on Skilak and Kenai Lakes, and except for use of shotguns below Skilak lake for lawful waterfowl hunting September 1 through April 30. Discharge of a shotgun on land, from a boat or across the river within one-quarter mile of a developed facility or dwelling is prohibited. Target shooting is prohibited in the entire State Management Area and on adjacent public lands. See Alaska Fish and Game regulations for hunting information.



 Please respect the rights of the many private land-owners along the lower Kenai River. Do not trespass, dock, bank fish, picnic or camp without written permission.



 Pets must be on leashes in developed campgrounds and day-use areas and under control at all times. Do not allow your dog to run loose or chase wildlife.



 Public restrooms are located at strategic locations along the Kenai River. Much of the land below Skilak Lake is private property. Public use is not allowed and is considered trespassing. Please know where you are and plan to take breaks at appropriate locations. If you are not near a restroom, dig a shallow hole at least 100 feet from water and then cover it. Do not burn toilet paper, as it is a fire hazard and rarely burns completely.



 Fires are permitted only in metal-bottomed fire pans with sides. Use only dead and down wood and carry ashes, charred wood, charcoal and debris out of the park . Do not leave fires unattended.



 Building a structure or disturbing the river banks at or below the ordinary high water mark requires state and federal permits. Contact the Gilman River Center at (907) 260-4882 for information before beginning work.

Kenai River Special Management Area brochure


Working Together for the River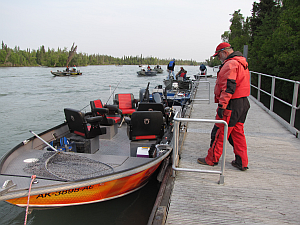 The popularity of the Kenai River, one of the most heavily used fresh-water fisheries in Alaska, puts a strain on its resources. In response to increasing threats to the river system's health, the legislature established the Kenai River Special Management Area in 1984 as a unit of the state park system.

A comprehensive management plan for the area, developed by agencies and a public advisory board, guides the cooperative efforts of the land managers. The plan's goal is to protect the natural resources and fish and wildlife habitat, manage the river's recreational and commercial uses, and provided public facilities. 0
Link to more Kenai River SMA documents
https://dnr.alaska.gov/parks/krsma/krsmaindex.htm
https://dnr.alaska.gov/parks/asp/krsmafinalreg08.pdf
Reminder of Kenai River outboard motor regulations
Alaska State Parks would like to remind boaters that 2008 regulations phasing out the use of older, two-stroke outboard motors in the Kenai River Special Management Area (KRSMA) have been fully implemented. Two-stroke motors that do not employ direct fuel injection technology can no longer operate at any time of year in the special management area, which extends from one mile downstream of the Warren Ames Bridge to the Cooper Landing area and includes both Skilak and Kenai Lakes. For more information, please contact the Kenai/Prince William Sound Area state park office at 907-262-5581.

New Motor Regulations Fact Sheet for Kenai River Special Management Area
See a map of the Kenai River Special Management Area.

For More Information:

Kenai Area Office (located at Morgan's Landing)
P.O. Box 1247
Soldotna, Alaska 99669
(907) 262-5581

Gilman River Center
514 Funny River Road
Soldotna, Alaska 99669
(907) 260-4882

For a copy of the Kenai River Special Management Area brochure, contact the DNR Public Information Center at dnr.pic@alaska.gov

Return to top of page