Quartz Lake State Recreation Area
For travelers and locals alike, Quartz Lake State Recreation Area is a great place to visit. Recreational opportunities abound.  Whether you enjoy the feel of a 20 inch rainbow trout on the line, the breathtaking view after a hike to Bluff Point, or sitting around the campfire with friends, these opportunities and more are available. Wildlife viewing, camping, picnicking, swimming, playing volleyball, and water skiing are also popular summertime activities. During the winter months popular activities include ice fishing, snowmachining, dog mushing, skijoring, and even staying at a rustic cabin when the temperatures can drop to well below zero.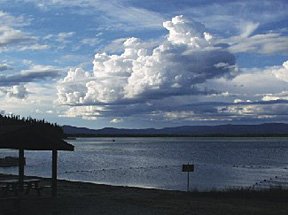 Quartz Lake State Recreation Area is a 600 acre park which often attracts large crowds due to the variety of recreational opportunities available. The recreation area borders two lakes and has facilities adjacent to the lakes to accommodate these crowds. At Quartz Lake there are 16 campsites in the loop and 87 parking and camping sites in the parking lot development. Facilities also include two boat launches, a handicap accessible fishing dock, picnic sites, a picnic shelter, a swimming area, a beach volleyball court, water, and toilets. Campground Map. Lost Lake is a favorite spot for those who want to avoid the crowds and enjoy the area's scenery and wildlife. At Lost Lake there are 12 campsites, a handicap accessible fishing dock, a picnic area, water and toilets.

Quartz Lake State Recreation Area is ten miles north of Delta Junction and is reached by a three-mile road at mile 277.8 of the Richardson Hwy.


Fishing
Fishing is the primary attraction of Quartz Lake State Recreation Area. Quartz Lake has some of the best road accessible fishing in Interior Alaska. Each year more than 34,000 fish are harvested.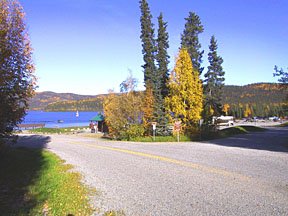 The Alaska Department of Fish and Game stocks Quartz Lake annually with over 300,000 fingerling rainbow trout, and coho salmon. By the end of their three year life cycle, coho salmon can reach up to 13 inches in length. Rainbow trout reach up to 18 inches or more in five years. In 1980 a trophy rainbow trout was caught which weighed 8.3 pounds and measured 25.5 inches long. Quartz Lake is also stocked biennially with subcatchable-size Arctic char and catchable-size Chinook salmon.

In order to avoid the plants growing in the water while fishing from shore, fish near the boat launches, from the fishing dock, or along the rocky shoreline. Your best bet is to use a small boat, canoe or float-tube. If you didn't bring a boat with you, don't worry. A commercial business operates a boat rental stand in the park.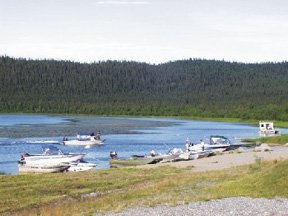 Effective lures include spinners, woolly worms, damsels, shrimp, and eggs. Daily bag and possession limit is 10 per day in any combination, only one of which may be longer than 18 inches. Be sure to consult your fishing regulations for more information.

The season is open year round for all three species at Quartz Lake so ice fishing is a popular past time. In order to accommodate ice fishermen, four ice fishing huts are available by reservation. There are two Public-Use Cabins available by reservation also (see below for more information on the cabins). Quartz Lake icehuts information.

Lost Lake also has some good fishing. Alaska Department of Fish and Game stocks this lake annually with 40 broodstock and 1000 catchable size rainbow trout. Fishing from the dock or a canoe is best. Spinners and corn are effective lures. Bag and possession limits are 10 per day / 10 in possession with no size limit.


Hiking
Hiking is becoming increasingly popular at Quartz Lake State Recreation Area. There are five hiking trails in the park for visitors to experience and enjoy. These trails offer extraordinary views of the Tanana River Valley, Alaska Range, Shaw Creek Flats, Quartz and Lost Lakes, and Moose Pond. The trails also offer opportunities for wildlife viewing.

Quartz Lake State Recreation Area Trail Guide

Quartz Lake State Recreation Area Trails Map


Public-Use Cabins
There are two Public-Use Cabins in the Quartz Lake State Recreation Area. Quartz Lake Cabin is located on the upper edge of the parking lot development at Quartz Lake. Glatfelder Cabin is located a half mile from the parking lot development along the southwest shore of Quartz Lake and is accessible by boating or hiking in summer, and by snowmaching, skiing, snowshoeing, and skijoring in winter. Both cabins are available by reservation. Quartz Lake cabin information

Wildlife Viewing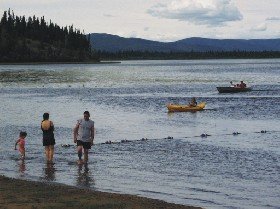 Some of the best wildlife viewing in Quartz Lake State Recreation Area is at Lost Lake. Moose are common visitors to the lake. They are often seen feeding on aquatic plants. Also on Lost Lake are a pair of nesting swans. These, like the moose, are sometimes seen feeding on aquatic plants. There is also a beaver lodge near the lakeshore. Beavers are often seen hauling branches across the lake. These branches will become the winter food cache for the lodge.

Throughout Quartz Lake State Recreation Area, wildlife abound. Visitors often see such animals as squirrels, ruffed grouse, ducks, and moose. Other mammals which are seen in the area are fox, coyotes, wolves, lynx, lesser weasels, martin, and bears. Other birds seen include eagles, owls, hawks, ravens, gulls, chickadees, sparrows, warblers, thrushes, ducks, and geese.

It is very important that visitors respect these animals. Be cautious when encountering any wildlife, especially moose and bears. Visitors should keep their distance from all animals. Please do not feed any wildlife. Any animal fed by human could become accustomed to free food and expect constant handouts. In the case of bears, these animals usually need to be put down in order to protect human life.