Delta Junction Area State Parks
Welcome to the Delta Junction Area State Parks
As you come to the end of the Alaska Highway, you reach a wilderness area which covers a wide expanse of boreal forests, braided river bottoms, high country tundra, and mountains. Visitors to the Delta Junction area love this region for its peacefulness, excellent fishing opportunities, variety of wildlife, breathtaking views, interesting historical significance, and most of all, for the warmth of the people who live here.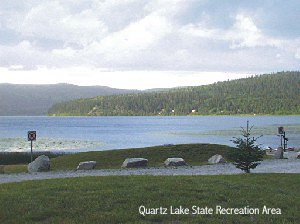 The Delta Junction Area State Parks hold many opportunities for visitors and townspeople alike. Not only are there beautiful lakes, excellent wildlife viewing, great fishing, various hiking trails, and a wonderful historical park, the Delta Junction Area itself has much to offer.


The town of Delta Junction has been referred to as "Buffalo Center". In 1928 twenty-three bison were transplanted from the National Bison Range in Montana to what is now the Delta Junction area. The free ranging bison herd now numbers about 375.

Delta Junction also offers travelers amazing views of the Trans-Alaska Pipeline. Both north and south of Delta on the Richardson Highway, there are excellent photo opportunities of the pipeline. There are also informational displays for visitors to read about this great industrial achievement.

Not far from Delta Junction is Donnelly Dome. The dome is located 18 miles south of town on the Richardson Highway. It has an elevation of 3,910 feet. The hike to the top offers a breathtaking view of the Delta River, the Alaska Range, and Donnelly Flats.

Most of all, Delta Junction has clean, well maintained State Parks with a tremendous amount of recreational opportunities. Many visitors enjoy stepping back in time at Rika's Roadhouse in Big Delta State Historical Park and seeing how the pioneers lived. Others enjoy watching the wildlife at Lost Lake Campground in Quartz Lake State Recreation Area or fishing at Fielding Lake State Recreation Site. There is always a good time waiting for you at the Delta Junction Area State Parks.