Fees and Park Regulations for Delta Junction Area State Parks
Fees
There is a $15 per night fee for camping at the campgrounds. Boat launch fees are $10 per day and parking $5 per day. The dump station fee at Big Delta State Historical Park is $10 and the historic access fee is $5 per person. There are five Public-Use Cabins in Delta that range between $35 and $45 per night by reservation. Park fee information


Park Regulations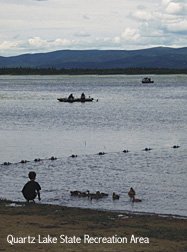 Fireworks and explosives are prohibited.



  Discharge of firearms or other weapons is prohibited except at designated areas. The use and discharge of a weapon for the purpose of lawful hunting or trapping is allowed, except within 1/2 mile of a developed facility.



  Overnight use of a developed campsite, including designated parking areas, requires payment of fee. "Overnight use" means use or occupancy of a campsite by any person or vehicle, or erecting a tent or shelter, or arranging bedding in order to stay at a campsite any time between 6:00 PM and 9:00 AM.



  Campground quiet hours are from 11 PM to 6 AM.



  Fires must be confined to a portable stove or fireplace provided.



  Pets must be on a leash and may not create excessive noise in a developed facility.



  Use of off road vehicles (ATV's) is prohibited except for trails officially designated and marked as open to off road vehicles.



  Operators of snow machines and off-road vehicles must be at least 14 years old, or under the direct supervision of a parent or a person at least 21 years of age.



  Vehicles are allowed only on established roads and parking areas.



  Camping within the park is limited to 15 consecutive days.  Vehicles and camping equipment may not be returned for 15 consecutive days thereafter.



  In a developed campground, camping is permitted only at a developed campsite.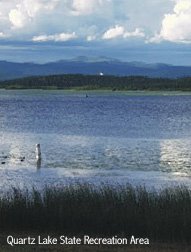 Camping equipment or vehicles left unattended for 48 hours may be impounded.  In an undeveloped area, unattended vehicles or equipment may be impounded after 72 hours.



  Campsites must be occupied the first night after camping equipment is set up or a vehicle is parked in the campsite.



  Refuse may not be brought into a park for disposal. Refuse created in the park must be removed or placed in a waste receptacle.



  Disturbing, damaging, defacing, or removing natural materials such as plants, rocks, or minerals is prohibited. Gathering berries, fruits, and mushrooms for personal consumption is permitted. Dead wood lying on the ground may be gathered for a campfire where campfires are allowed.



  Horses are allowed only in Quarts Lake State Recreation Area, except for the boat launches and the beach area. Groups using ten or more animals must obtain a park use permit. Loose herding or tethering animals within 100 feet of fresh water is prohibited.



  Peddling or display of signs is prohibited.



  Permits are required for assembly of more than 20 people or for spectator events.