Delta State Recreation Site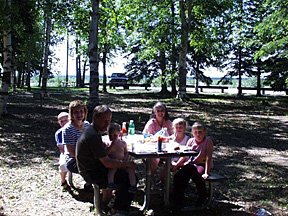 Delta State Recreation Site is a popular campground for those traveling between Tok and Fairbanks. This campground gives visitors a wilderness feel, but keeps them conveniently close to town for events or shopping. There are stores, commercial showers and other services nearby. Delta State Recreation Site has 25 developed campsites, a picnic area, a covered picnic shelter, water and toilets. A city airstrip next to the site allows for fly-in camping.

Directly across the highway from the recreation site lies the Delta River. This allows for some spectacular views of the Alaska Range beyond. On a clear day one of the tallest mountains of the Alaska Range, Mt. Hayes with an elevation of 13,832 feet, can be viewed from the park. Because of their high elevation, Mt. Hayes and five other mountains, that can be seen from the park, remain snow covered year round.

Delta State Recreation Site is located in Delta Junction at mile 267 of the Richardson Hwy.