Clearwater State Recreation Site
A beautiful little campground lies tucked beside a crystal clear river that offers great fishing opportunities and a peaceful place to spend the day. Clearwater State Recreation Site has 17 campsites, a boat launch, a picnic area, water and toilets. Campground Map.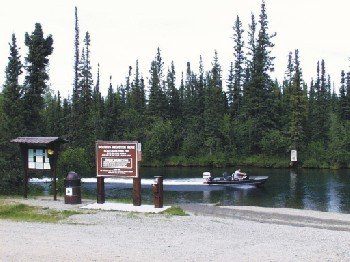 Many visitors enjoy this recreation site for its well kept campsites and for the picnic area. Others enjoy this site for the river access provided by the boat launch. The clear waters of the Delta Clearwater River provide excellent fishing opportunities for Arctic Grayling, whitefish, and salmon.

The Delta Clearwater River provides access to the Tanana and Goodpaster Rivers. Many people enjoy the opportunity to float the Delta Clearwater River. Delta Clearwater Float Guide.

For those who enjoy walks and a chance to view animal life and plant life close-up, there is a boardwalk located along the river behind the campsites. At the end of the walk you can fish for grayling, whitefish, or salmon. If you are traveling in the spring or fall, Clearwater State Recreation Site is an excellent place to see sandhill cranes, swans, geese and other migratory birds.

Clearwater State Recreation Site is reached by turning onto Clearwater Road at mile 1415 of the Alaska Highway and driving 8-1/2 miles, or by turning onto Jack Warren Road at mile 268 of the Richardson Highway and driving 11 miles.