Winter Activities in Chena River State Recreation Area
Ski trails come in two sizes at Twin Bears
Most trails in Chena River State Recreation Area offer opportunities for snowshoeing and cross country skiing, two winter activities allowed throughout the park. Generally, the trails are packed for these activities either by snowmachine riders or by snowshoeing and skiing enthusiasts traveling along the trail.

Twin Bears Camp offers an exception to this norm. There you can find two cross country ski trails that are occasionally groomed. One is 5 km., about 3 miles long and the other is 3.5 km., about 2 miles long. These intermediate level trails are set with single tracks, about 32 inches wide, after major snowfalls. The tracks are maintained by the Alaska Division of Parks and Outdoor Recreation, by private contractors, and by volunteer organizations. The 5-kilometer loop takes approximately one hour to two hours to complete. The shorter loop will require about one hour, possibly less for experienced skiers. The loops connect with the Chena Hot Springs Winter Trail, presenting skiers with an exciting variety of possible routes.

When skiing the loops, be sure to ski in a clockwise direction as indicated on the accompanying map. Hills, sharp turns, and the narrow width of the trail could make two-way skiing dangerous. The ski trailhead is at mile 30 of Chena Hot Springs Road.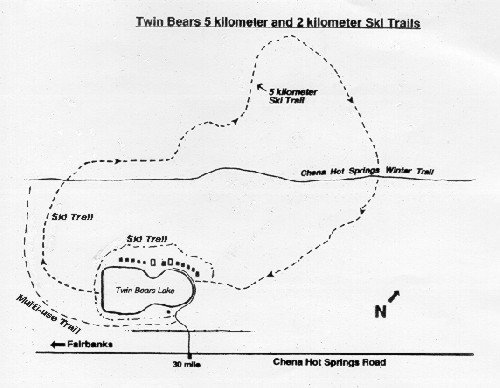 Winter Mountain Biking -- a New Twist on a Summer Sport
Mountain bikers are discovering that Chena River Recreation Area trails offer more than fair-weather riding. Increasing numbers of bicyclists are venturing onto area trails for winter riding. Snow-covered winter trails are often well-packed thanks to long periods between snowfalls in Alaska's Interior, and riders are discovering scenery and solitude go hand-in-hand on winter rides. Local mountain biking enthusiasts recommend several trails in the recreation area for winter biking. The Colorado Creek Trail is a good choice for a short winter day ride, typically taking 3 to 4 hours. From the parking area at 31.5 mile Chena Hot Springs Road, the distance is 5.8 miles to the Colorado Creek Cabin, making for a round trip of 11.6 miles with an approximate 600 ft. elevation gain. The main trail is well marked.

Another popular trail is the Angel Creek Valley Trail, which begins at mile 50.5 Chena Hot Springs Road. This trail will travel to two separate State Parks cabins. The first cabin is at mile 3.6 and the second is at mile 6.8. Round-trip distance is 13.6 miles with an elevation gain of about 600 feet. The trail gets less midwinter sun than other area trails, but is usually well-packed by snowmachines.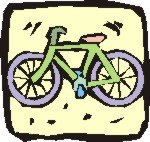 The Chena Hot Springs Winter Trail is generally well-packed and level, and is a good choice for persons new to winter mountain biking. This trail does receive heavy use from dog teams. Riders can access the trail at mile 26.6 and ride all the way to the hot springs, for a one-way distance of over 30 miles.

According to local experts, winter mountain biking only requires a few extra preparations beyond that of normal riding. One tip for winter riding is gluing tires to the rims, using tire glue available at local bike shops. This allows for running the tires at low pressure without damage to tires or valve stems. Some riders invest in special rims for winter riding. The most important consideration for winter riding is appropriate clothing and survival gear. Winter temperatures can dip to minus 30 degrees F, and can range above plus 30. The same layered clothing recommended for winter hiking and cross-country skiing works well for winter biking. Riders must take care to carry extra food and to drink plenty of fluids.


Winter activities abound in the recreation area
If the temperature is nippy and there's enough snow on the ground, you might catch Ev Wenrick with his dog Jack out on the ski trails at Chena River State Recreation Area. Wenrick first tried cross-country skiing 23 years ago, and he has covered thousands of miles since then. "I got hooked," Wenrick said.

Like many winter sport enthusiasts, Wenrick appreciates the Chena River State Recreation Area because of its scenery and challenging trails. The trails in the area offer many opportunities for winter adventure from mid-October to mid-April. The cabins are spaced so that skiers can reach them in an easy day ski, and continue on from there, deeper into the park. Skiers can choose between relatively flat trails like the one that leads to Colorado Creek cabin, or steeper and tougher trails such as the Stiles Creek Trail that leads to the Stiles Creek Cabin.

A group that is a cross between the mushers and skiers is the skijoring group, or skiers who are attached to one, two, or even three dogs. Use of the cabins and trail system by this group is strong. Beginning skijorers frequent the closer cabins, and often ski the more difficult terrain after leaving their dog-hauled gear at the cabin. More adventurous skijorers tackle the toughest terrain the park has to offer, enjoying the bond that the challenge brings between them and their dogs.

Many of the park's visitors come from as far away as Anchorage to snowmachine. The vehicles are a popular way to reach the Public-Use Cabins, which are available for rent all year long. People snowmachine out, stay the night, and snowmachine back.



Four cabins are located on trails three to seven miles from Chena Hot Springs Road. Another cabin one-quarter mile from the road can be reached by car. Easy access to the cabins is not the only reason snowmachiners flock to the recreation area. Many people like the long range travel made possible by snowmachines, and the amount of gear that they can carry for extended trips. "People all over the world know we've got world-class snowmachining up here," said Bob Krize, owner of Alaska River Charters and a member of the Fairbanks Convention and Visitors Center Bureau Board. "We're trying to get more people from the Lower 48 to come up and ride." Trails for snowmachines are designated as such. Park officials ask that riders make certain they are using the appropriate trails.
Local mushers take advantage of the area's terrain to train for the 1000-mile Yukon Quest, the Iditarod and local dog sled races. The Chena Hot Springs Winter Trail, used by the Yukon Quest sled dog race, runs through the recreation area for about 26 miles. Mushers also enjoy the use of the cabins. "A lot of people train their dogs there," Hunt said, adding that some smaller local dog sled races are held within the recreation area itself.

Trappers and hunters find that small game animals are abundant in the park during the winter months. Sport hunting includes moose, bear, rabbit, grouse, ptarmigan and fur animals. Park officials advise that people bringing firearms into the recreation area familiarize themselves with appropriate regulations.

Wildlife viewing and photography offer additional incentives to seek out animals in the recreation area. Grouse, fox and lynx are common in the park and moose are everywhere. Snowshoeing is a great way to follow animal tracks. New trail development proposals at the Chena River State Recreation Area promise to provide even more areas for winter sport enthusiasts to enjoy. Some of the well-established trails may be linked together. Some day in the future it will be possible to reach the 300 miles of winter trails and ten cabins in the White Mountains National Recreation Area. "It's better every year, and I think it will keep getting better," Krize said. Don't miss out on the many opportunities available.