State Parks near Tok
Tok is the gateway to Alaska. This small town (pop. 1000) is located only 92 miles from the Canada-US border on the ALCAN Highway. Tok is situated in the upper Tanana River Valley, near the foot hills at the end of the Alaska Range. To the north and east of Tok, the famous "40 Mile Country" stretches up to the Yukon River. This land contains historic gold mines, wildlife, woodlands, wide interior Alaskan rivers, and modern day Alaskan pioneers and prospectors. South of Tok, the traveler enters the Copper River Valley, which eventually terminates at Prince William Sound. Westbound travelers can continue on to Fairbanks. The Tok area gives visitors entering Alaska by way of the Alaska Highway their first opportunity to explore the Alaska Range. Summers are very short here in Interior Alaska, but they are warm and dry with long daylight hours.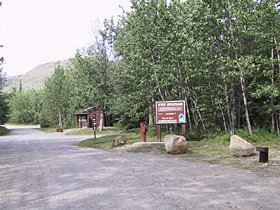 Eagle Trail State Recreation Site is 16 miles south of Tok at mile 109.5 of the Tok Cut-Off Highway. It is frequented by campers traveling between Tok and Glennallen. This campground has 35 campsites, five of which will accommodate most motorhomes. Also provided are a picnic shelter, drinking water and latrines. Historical features of the campground include the Valdez-Eagle Trail, the Old Slana Highway, and the Washington-Alaska Military Cable and Telephone System (WAMCATS). Visitors to this 280 acre site can enjoy a walk on the one mile nature trail or the 2.5 mile hiking trail with an overview of the Tok River Valley. Eagle Trail SRS offers most highway travelers their first opportunity to explore the Alaska Range. An eight hour hike up the bordering creek brings backpackers within close viewing distance of Dall sheep in the Tok Trophy Sheep Management Area.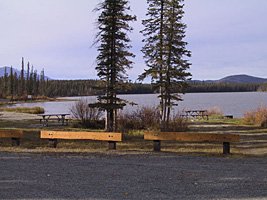 Moon Lake State Recreation Site is near mile 1332 of the Alaska Highway. Located 15 miles northwest of Tok, Moon Lake is a popular getaway destination for local residents. Facilities include 15 campsites, a boat launch, picnic area, a sandy beach area, drinking water and latrines. Moon Lake offers a variety of water recreation opportunities including swimming, boating, and water skiing. Local float planes flown by Alaskan bush pilots, and landing on Moon Lake, bring an Alaskan flair to this campground.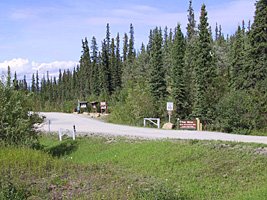 Tok River State Recreation Site is popular with highway travelers just entering Alaska from Canada. The site is 4.5 miles east of Tok at mile 1309 of the Alaska Highway. There are 43 campsites, ten of which will accommodate motorhomes up to 60 feet in length. Facilities include a picnic shelter, drinking water, a walking trail, telephone, and latrines. A group campfire area is provided on the sandy beach of the Tok River. Situated on the east bank of the Tok River, this park provides river boating and float trip opportunities to visitors. Across the river from the campground is the burned area of the 1990 Tok River Fire.