Volunteer and Support Your Park
There are many volunteer opportunities located within the Kenai River Special Management Area.  Multiple volunteer opportunities exist whether you are looking for a campground host position,  a clean up project, a summer full of fun, or if you just want to help out the park. Applications will be taken year-round.

Check out the following volunteer opportunities:

Campground Hosts
Bings Landing Campground
Funny River Campground
Morgan's Landing Campground
Park Hosts
Bing's Landing Boat Launch
Cooper Landing Boat Launch
Morgan's Landing Day Use Area
The Pillars Boat Launch
Eagle Rock Boat Launch
NOTE: Please be sure to check the general information page for instructions on applying!

There are also opportunities to volunteer for special projects such as trail improvements, maintenance and construction projects and streambank rehabilitation.  Please contact the Kenai/PWS Area office at (907) 262-5581 for more information.


---
Stream Watch
Founded by the U.S. Forest Service in 1994, is a national award winning volunteer program that promotes river stewardship on two world-class sockeye salmon fisheries on Alaska's Kenai Peninsula – the Russian and Kenai Rivers. Become a Stream Watch Ambassador this summer. Contact the Kenai Watershed Forum!
---
Adopt-An-Area
Are you looking for a service project for your office or group? KRSMA has a program for you.  We will work to match you up with an area that you can "adopt". This could be a trailhead, wayside, or overlook. We can find the perfect fit for you and your size of group. This program requires a minimum of two visits a year and more is encouraged. We also can provide tools if needed.


You can help by picking up litter, doing light maintenance and reporting vandalism.

For more information contact the Kenai / Prince William Sound Area State Parks office.
Phone: 907-262-5581
---
Photographic Donations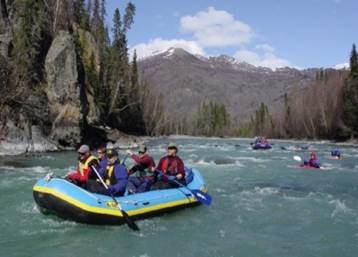 The park also accepts photographic donations of images taken within the park. Signed releases are required from all human photo subjects. Disks of photos and photo releases may be mailed to:
Alaska State Parks
PO BOX 1247
Soldotna, AK 99669.
Please be sure to send the titles and approximate location of all images. Photos donated to Alaska State Parks will become property of the State of Alaska. Efforts will be made to credit the photographer.


---
Financial Donations
The State Park System gratefully accepts financial donations. Checks may be made out to Alaska State Parks and mailed to:
Alaska State Parks
PO BOX 1247
Soldotna, AK 99669
(907) 262-5581
Please specify that you intend to make a donation to the park. Unless otherwise specified, donations are put to the highest priority of the park as determined by the administration.