Boating Safety on the Kenai River 
The Kenai River's 105 miles of lakes and rivers offer ample opportunity to recreate on the water.  Knowledge, skill and vigilance are required to operate a boat safely - especially in crowded boating conditions and  near hazards.  Please learn the US Coast Guard "rules of the road" for your safety and others. Everyone should wear personal flotation devices (PFDs) when boating the Kenai. Children under the age of 13 are required by law to have a life jacket on at all times in an open boat or on an open deck. A list of the Alaska boating legal requirements summary can be found online at
http://dnr.alaska.gov/parks/boating/pdf/boatrequire120309.pdf 


Power Boating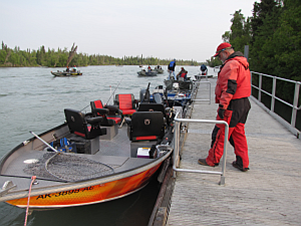 Power boating on Alaska's Kenai River is both an exhilarating recreational activity and important means of access. River boating allows access to special places that might otherwise be out of reach. However, the power of moving river water is relentless. Non-motorized boats and boats drifting downstream have the right-of-way. Boats under power headed or pointed upstream must yield to other traffic.

Boat operators are legally responsible for their boats' wake and any damage it causes. Please travel mid-river whenever possible. Use appropriate speeds and keep wake to a minimum to reduce bank erosion and silting of spawning beds. Approach other boats and property, such as docks, carefully.

Alaska State Parks would like to remind boaters that 2008 regulations phasing out the use of older, two-stroke outboard motors in the Kenai River Special Management Area (KRSMA) have been fully implemented. Two-stroke motors that do not employ direct fuel injection technology can no longer operate at any time of year in the special management area, which extends from one mile downstream of the Warren Ames Bridge to the Cooper Landing area and includes both Skilak and Kenai Lakes. For more information, please contact the Kenai/Prince William Sound Area state park office at 907-262-5581.
Paddlers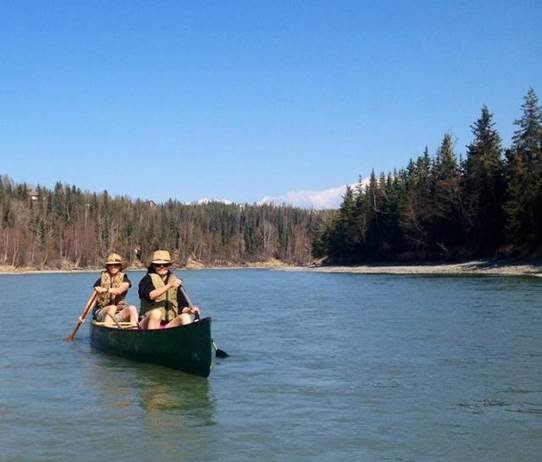 River paddlers should be strong swimmers and be in good physical condition. Choose boats designed for rough river currents. Highly stable kayaks, canoes, and rafts with a very low center of gravity and covered decks are ideal. In addition to legal requirements and the other items recommended for all boaters, paddlers should also carry: paddle float, paddle leash, stirrup, towing strap, plenty of visual distress signals (including a signal mirror) and maybe even a spare paddle.


Hazards
The Kenai is a big, fast, and cold river. You must be prepared for crowded boating conditions, natural and man-made hazards, and cold water. No one ever expects boating emergencies, but they happen—so always be prepared. Most boating fatalities in Alaska involve cold water immersion resulting from a person falling overboard or a boat capsizing. Dress appropriately and help those in need. Kenai and Skilak Lakes are very cold and subject to sudden high winds which kick up choppy waves. Stay on shore in bad weather.  The Alaska Office of Boating Safety offers presentations describing the effects of cold water immersion and actions you can take to increase your chances of survival. For more information or to request a presentation for your agency or organization, contact Joe McCullough at (907) 269-8704 or joseph.mccullough@alaska.gov.

Many natural hazards exist on the Kenai River including: rapids, rocks, sweepers, log jams, sand and gravel bars, submerged objects, animals, wind, sunlight, fog, and of course, other boaters. Boaters should be skilled in turning with and against current, launching, landing and beaching, anchoring, basic troubleshooting and repairs, and reading the water. Exercising good judgment and applying the right mix of skill, ability, and caution are never more important than when power boating on rivers.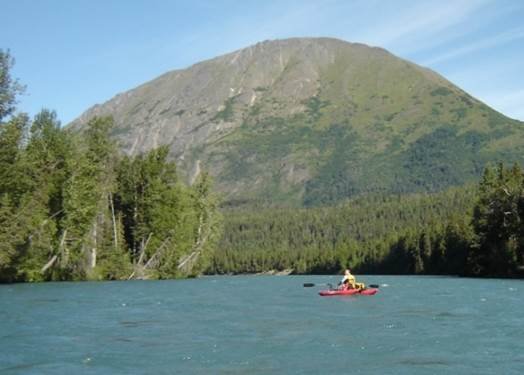 The Alaska Department of Fish and Game also operates sonar sites on the Kenai River for counting fish. When boating, please obey the warning signs near the sonar sites and stay mid-river when traveling by boat. Submerged equipment and buoy lines can easily entangle fishing gear, hooked fish, and engine drive units. Besides a damaged propeller or lost fish and tackle, disturbance to sonar equipment may result in costly repairs and loss of critical data. Anglers should immediately cut their lines if they become entangled with sonar equipment. Boaters may also see ADF&G research vessels or equipment such as weirs or traps anywhere along the river. Please maintain sufficient distance from these research projects to avoid entanglement and damage. Boaters may also be approached by researchers during "creel surveys" to take measurements and scale samples and gather statistics from retained salmon. The Department thanks boaters in advance for their participation and cooperation in helping manage this fishery.




For additional information about boating on the Kenai River, view the Boaters Safety handbook to the Kenai River at
http://dnr.alaska.gov/Assets/uploads/DNRPublicparks/boating/pdf/kenairiversup.pdf

For information on the boat and motor restrictions on the Kenai River please visit the link below.
http://dnr.alaska.gov/parks/units/krsmanewmotorfs2013.pdf