Fishing the Kenai River 
The Kenai River is the most popular sport fishing destination in Alaska, particularly for salmon and trout. The Kenai offers an abundance of options for anglers; bank fishing, back trolling, drifting, back bouncing, catch-and-release, personal use dipnetting, subsistence fishing, and guided fishing are just some of the opportunities available in the fishery. There is no such thing as a personal fishing hole. Different methods are popular in different river reaches – Please don't buck the trend. Opting to drift through back trolling areas or back bouncing where others are drift fishing is often unsafe. This frequently causes tangled lines, hot tempers, and even boat collisions or accidents. Courtesy and common sense will make everyone's experience more enjoyable.
Bank Fishing
Fishing from shore is an extremely popular method on the Kenai. Many public facilities in Kenai, Soldotna, Sterling and Cooper Landing have trails, boardwalks and fishing platforms for river access. Please visit our Maps and Brochures webpage for a list of public access areas and respect the rights of the many private land-owners along the Kenai River. Angling the Kenai can be enjoyable and orderly if everyone works together to have fun, catch fish and enjoy this remarkable river.
Do not trespass, dock, bank fish, picnic, or camp without permission


Use developed trails when possible


Avoid walking on sensitive riparian areas including shoreline vegetation, tree roots, and sloughing gravel 
Courtesy on the River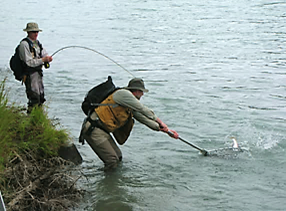 Patience is a virtue! Please be kind and courteous to others at fishing holes, while boating the river, when launching boats and parking at facilities. Fishing should be fun. A smile and a helping hand can calm many stressful situations.

Landing a salmon on the Kenai is challenging enough without worrying about the crowds. The universal signal for "Fish On" is an upraised landing net. Help out other anglers by pulling in your line, stepping out of the way, offering to net their fish and/or steering your boat well away from the fish. If your fishing line becomes entangled with someone else's line that has a salmon on, cut your line immediately. The line with the fish on has the "right-of-way."


Sport Fishing Regulations
Anglers should obtain a current copy of the Sport Fishing Regulations and keep it accessible while fishing. Snagging or attempting to snag any fish is illegal in all fresh waters of Alaska. To snag a fish means to hook the fish anywhere other than in its mouth. Anglers must purchase a valid sport fishing license if age 16 or older. Licenses, tags and permits are available at all Alaska Department of Fish and Game offices, many sporting good and grocery stores. Licenses and tags can also be purchased online at www.admin.adfg.state.ak.us/license. If you have questions about fishing regulations, please contact the Alaska Department of Fish and Game (ADF&G) office in Soldotna at 907-262-9368.
Kenai River Guides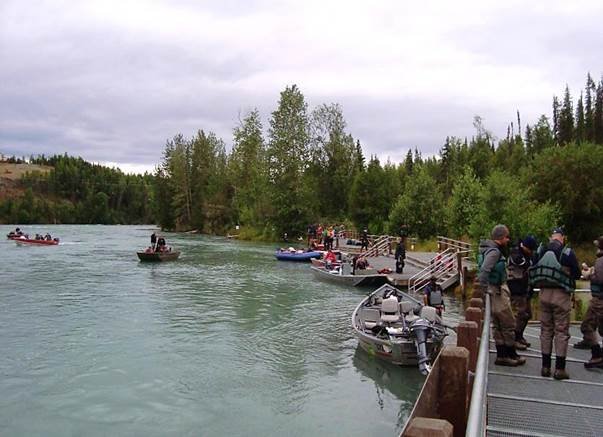 Guides must have a state park commercial use permit and meet safety, training and insurance requirements. Be sure your guided vessel displays current Kenai River guide decal, a large three digit boat number and the Kenai River SMA guide identification.

Kenai River Guides are not allowed to verbally or physically harass, assault, or abuse clients, employees, outfitters, other guides and their clients, or members of the general public. For additional information regarding guiding, to report a guide's unprofessional behavior or to report violations please contact Alaska State Parks at (907) 262-5581. A list of permitted Kenai River guides is available at the Gilman River Center at (907) 260-4882.


Catch and Release Fishing
Catch and release fishing is highly rewarding if done correctly. Fish must be released immediately and if done correctly will suffer very little permanent injury and will spawn successfully. Here are some suggestions on releasing that will reduce harm to fish.
Land fish quickly

. 

Playing a fish 

to exhaustion takes 

energy 

away 

needed for 

spawning.


Do not remove fish from the water

, even to take photographs

.


Keep your hands away from the gills

. Putting your hands under 

the 

gill plate could injure the fragile gill arches and could cause 

death

.


Handle fish gently

. 

Grasp fish 

around 

the body 

when 

removing 

the hook. A pair of long-nosed pliers or a hemostat 

works 

best for backing the hook out. 



If the fish is hooked deeply, cut the line as close as possible 

to 

the hook. Do this only if removing the hook will cause more 

damage 

than leaving it in. Use steel hooks that will quickly rust 

out

; avoid using stainless steel hooks.


Gently support the fish in the water 

with its head pointed 

upstream 

until it swims away on its own.