Shuyak Island Trail Network
Alaska State Parks is developing a small network of trails on the western side of Shuyak Island The trails give visitors access to salmon fishing, to the open capes of the outer coast, and to the Big Bay ranger station/visitor center. Some of the public use cabins are also linked by trails. Most trails wind through the old growth Sitka spruce forest. There are signs at trailheads and junction, and orange triangles mark the way. These wilderness paths have minimal improvements so creek crossings and boggy or areas are common. Though trails are marked, Shuyak's lack of topography and thick forests can be disorienting. A map and compass are recommended for all hikers.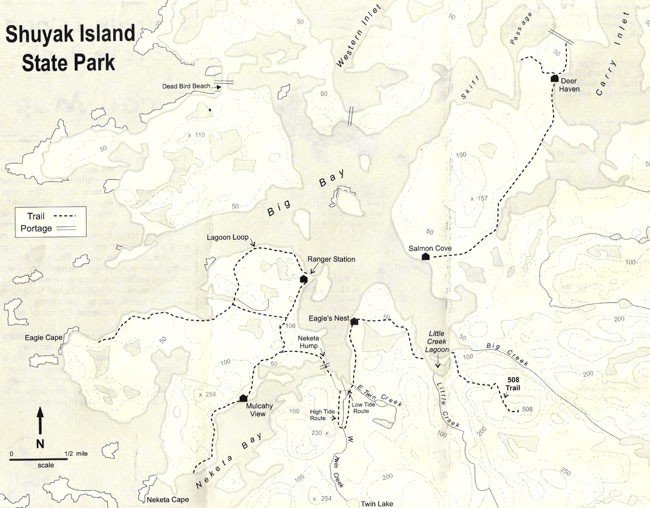 TRAIL MILEAGES ARE ONE-WAY
1. RANGER STATION to EAGLE CAPE (3.6 miles) To open tundra of Eagle Cape. Marked trail ends just past edge of forest. Spectacular views of the Katmai Mountains and Afognak Island. Good birding opportunities.

2. LAGOON LOOP (2.5 miles - begins and ends at Ranger Station) Easy loop. Mainly in forest, passes beaver ponds. Can be used to reach Eagle Cape trail from Mulcahy View trail.

3. MULCAHY VIEW CABIN to RANGER STATION (1.4 miles) Easy trail. Also leads to junctions of Neketa Hump and Eagle Cape trails.

4. MULCAHY VIEW CABIN to NEKETA HUMP and TWIN CREEKS (1.1 miles) To silver and pink salmon fishing at Twin Creeks.

5. MULCAHY VIEW CABIN to NEKETA CAPE (1.1 miles) Leads to a wide beach on outer coast. Afognak Island and the Katmai Mountains can be seen on clear days.

6. EAGLES NEST to TWIN CREEKS (0.7 miles) To silver and pink salmon fishing at Twin Creeks.

7. EAGLES NEST CABIN to LITTLE CREEK LAGOON (1.0 miles) To silver and pink salmon fishing at Little Creek. At extreme low tides, the lagoon can be crossed to reach the 508 trailhead or salmon fishing at Big Creek.

8. 508 TRAIL (0.8 miles) Trailhead is at eastern end of beach. Path winds its way up to one of the higher elevations on the island: 508 feet. Spectacular views of Big Bay, northern Shuyak, the Barren Islands and the Katmai Mountains can be seen from the rock outcrops at the end of the trail.

9. DEER HAVEN CABIN to SKIFF PASSAGE (0.4 miles) Skiff Passage is river-like during high tides, but goes dry at low tide.

10. SALMON COVE to DEER HAVEN (2.8 miles) Forest trail connects the two cabins.