Revised Recreational Use Boundaries
Effective January 20, 2013, the new Hatcher Pass Management Area Regulations went into effect. The changes affect areas open to the use of snowmobiles and are primarily in the Government Peak, Mile 16, Gold Mint, Reed Lakes, Archangel, and Marmot Mountain areas. Where practical, signage will be placed along the revised boundaries. Recreationists are encouraged to study the maps to assure the area they intend to use is open or closed to their choice of activity. See the map below for upcoming boundaries.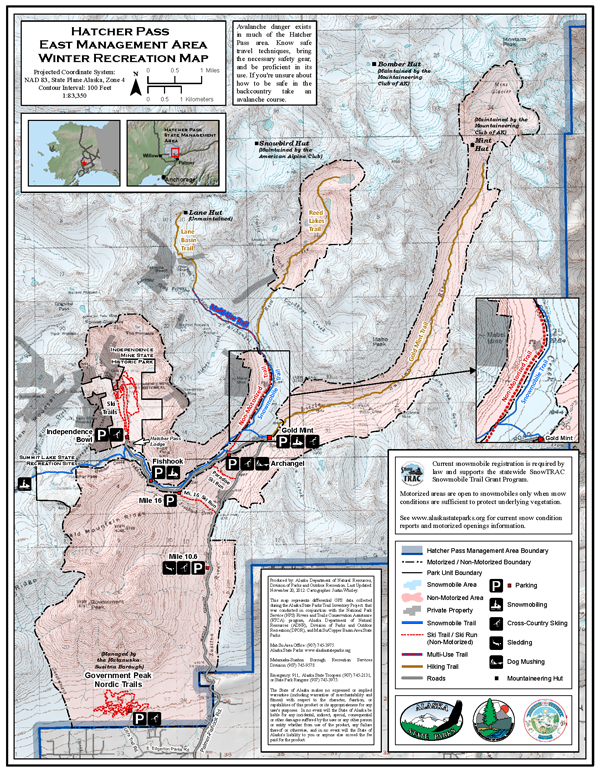 Click on map for printable PDF

New regulations also include restrictions on discharging firearms near roads and limits camping to designated areas or a certain distance from roads and trails. A complete copy of the proposed new regulations is available at http://dnr.alaska.gov/mlw/hottopics/11-AAC96-014/index.cfm.

Specifics on implementation will be updated here as they evolve.   The new boundaries will require significant signage revisions to inform the public. Questions regarding the new regulations can be sent to wayne.biessel@alaska.gov, or by phone at 745-8950. For information regarding the Government Peak area, contact the Mat-Su Borough at 745-9578.