Local Government Preservation Programs
Local Government Quick Links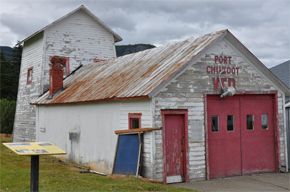 Port Chilkoot, Haines
CLG Grant Announcement and Application
CLG Grant Application (.pdf)

CLG Grant Application (.docx)

Grant Announcement & Commission Priorities (.pdf)

Evaluation Criteria (.pdf)

Questions: For more information, please contact the Grants Administrator at: jean.ayers@alaska.gov or 907-269-8694.
State of Alaska: Dept. of Natural Resources
Division of Parks Outdoor Recreation
550 West 7th Avenue, Suite 1380
Anchorage, AK 99501
---
Preservation at the local level is necessary to effectively preserve links to a community's heritage, highlight the special community character, create economic benefits, and establish a sustainable development practice. The Office of History and Archaeology (OHA) can assist local governments as they write historic preservation ordinances and plans, conduct surveys, develop context statements, create local designation guidelines and procedures, identify economic incentives, and train preservation commissions. Additionally, OHA administers the Certified Local Government (CLG) program.
---
What is a Certified Local Government?
Certified Local Governments (CLGs) are local governments that have demonstrated a commitment to historic preservation by adopting a historic preservation ordinance, establishing a preservation commission, and meeting all the requirements found in the Alaska's State Guidelines. In short, these requirements include establishing an ordinance that establishes a qualified commission, enforces preservation laws, complies with Open Meeting Laws, and maintains an inventory compatible with Alaska Heritage Resources Survey.
---
Why become a Certified Local Government?
CLGs can apply for grants from Office of History and Archaeology. Each year ten percent of the annual Historic Preservation Fund grant under the National Historic Preservation Act is competitively awarded to CLGs. Federal and state agencies also recognize the historic preservation expertise of local commissions. OHA provides training and technical assistance to CLGs. This training will help communities reach the goals established in their preservation plans.