Historic Preservation Fund Grants
Historic Preservation Fund Quick Links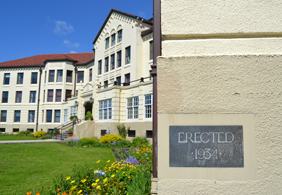 When there are HPF development and predevelopment grant funds available, private owners, non-profit groups, businesses, Native and local government entities can apply. The owner of the property must be the applicant and is the official recipient of a grant award. The application calls for similar information as a CLG grant application, and specifically asks applicants to indicate how the project will follow The Secretary of the Interior Standards for Treatment of Historic Properties. The Alaska Historical Commission reviews the applications and makes recommendations to the State Historic Preservation Officer for funding.

---
What conditions are there for owners who accept federal preservation funds?
Owners who accept federal historic preservation funds agree to a covenant for a period of five to ten years stating that upon acceptance and use of the funds the property will not be intentionally changed so as to destroy its historic character. If the significant historic characteristics are knowingly destroyed, historic preservation funds the applicant received will have to be repaid. Owners also submit photographs of the property and work done with award funds to the Office of History and Archaeology that can be used for office programs and reports.