The National Coastal Wetlands Conservation Grant Program
The National Coastal Wetlands Conservation Grant Program awards grants to states through a competitive process. The program is funded under provisions of the 1990 Coastal Wetlands Planning, Protection and Restoration Act, with money generated from excise taxes on fishing equipment and motorboat and small engine fuels. For more information contact:
Steve Neel, Alaska State Coordinator
Alaska State Parks
550 W. 7th Ave, Suite 1380
Anchorage, AK 99501-3561
Phone: (907) 269-8709
Fax: (907) 269-8907
email: Steve Neel 


Or visit the U S Fish and Wildlife Service National Coastal Wetlands Conservation Grant Program online at:
http://www.fws.gov/coastal/CoastalGrants/
---


Parks given land on Afognak Island for Management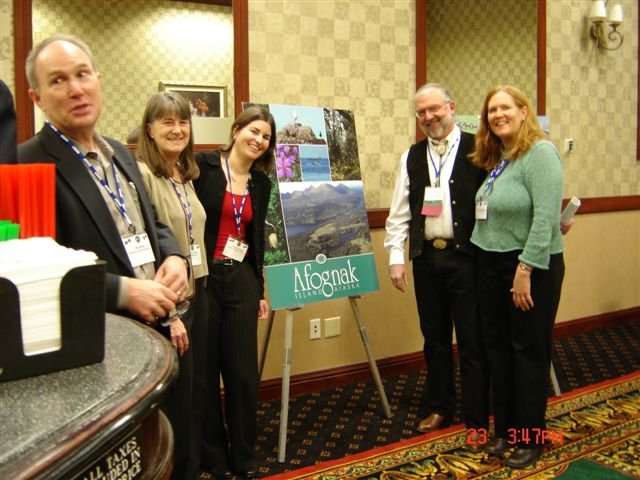 From left to right: Al Jahns, ALC, Carol Fries,
Kerry O'Toole, ALC, Ron Marcoux, RMEF and
Lani Eggertsen-Gof


State of Alaska DNR employees, Carol Fries and Lani Eggertsen-Goff joined with staff from American Land Conservancy (ALC) and Rocky Mountain Elk Foundation (RMEF) to celebrate the purchase of land on Afognak Island that will be turned over to DNR for management. RMEF and ALC sponsored a reception for partners to receive awards in Reno, Nevada February 23, 2006.

Three conservation organizations, ALC, RMEF and Kodiak Brown Bear Trust, helped assemble the federal and private grants to make the purchase in the Perenosa Bay area possible. The U.S. Fish and Wildlife Service awarded $2 million in federal coastal wetland grants to the project. State Parks administers the grants for USFWS Coastal Wetlands Conservation Program Grants.