Please Help Protect Our Parks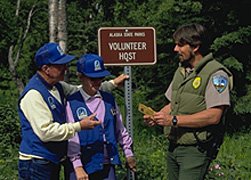 Pets must be on leashes at developed facilities, such as campgrounds and picnic areas, and under control in other areas at all times.

Litter is an eyesore and a disappointment to park visitors. All refuse should be removed or placed in litter containers provided. In the backcountry, please pack out what you pack in, and leave your campsite as you found it. Practice "no trace" camping.

Motor vehicles are generally restricted to roads and parking lots. For information on specific areas open to off-road vehicles, contact a park office.

Horseback riding is allowed in designated areas of park units. Call a park office for information on specific areas.

Fishing and hunting regulations can be obtained from the Alaska Department of Fish and Game. Check campground bulletin boards or call a park office for more information.

Discharge of Firearms: Check with a park office for area closures and for 1/4 or 1/2 mile restrictions near developed facilities. Target shooting is prohibited.

Fires must be confined to designated sites. Portable stoves should be used in the backcountry.

Fireworks are strictly prohibited.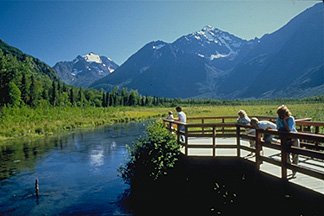 Wildflowers, trees, ferns and grasses are found in abundance in Alaska's parks. Enjoy them, but please don't pick wildflowers or peel bark from trees. Leave the beauty for the next person to appreciate.

Reservations are not required for any park facilities except rental cabins. Permits are required for large groups or commercial activities.

Camping limits help ensure that everyone has reasonable access to a camp site. The limit that ordinarily applies may be shortened during peak season at the most popular campgrounds. Check the campground bulletin board for the current stay limit, or consult the campground host.

Public rental cabins are available on a reservation basis in several state parks. Cabins are rustic, with bunks (no mattresses), benches, kitchen counter, table, chairs, and a stove for heat. Outside furnishings usually include a fireplace/grill and latrine. Cooking stove, firewood or fuel, and drinking water are not provided. Click here for more information on cabins.

Park user fees, which are returned to the park system to defray maintenance and operational costs, are charged at many locations. Camping fees range between $10 and $15 per night. Sanitary dump station is $5, except nightly campers may dump free at Chena River SRS and Eagle River Campground. Boat launch fee is $5 to $10, with an annual pass available for $75. Daily parking fees of $5 are charged at some parks, with an annual pass available for $40. Park users are eligible for a discount price of $100 when purchasing a day pass and boat launch pass together at any state park office or from state park rangers. SPECIAL NOTE: Some parks are managed by private firms. Fee levels are subject to change. Click here for more information on park fees.


Return to Alaska State Parks Brochure Home Page