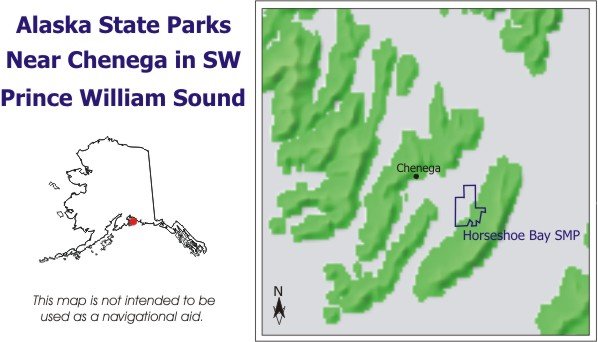 Click on park name to go directly to the description.

NOTE: Most camp sites accommodate RVs up to 35 feet in length.
Electrical hookups are not available.
Horseshoe Bay State Marine Park
Camp
Sites
Camping
Limit
Camping
Fee
Picnic
Sites
Picnic
Shelter
Toilet
Water
Trails
Undeveloped
Historical
Features
Boat
Launch
Cabins
Daily
Parking
Fee
Dump
Station
Entrance
Station
Fishing
Acres
Undeveloped
Yes
970
Location: No road access.
Park Features: Horseshoe Bay SMP
For fee information by facility, click here.
For additional information on ADA accessibility, click here.
Kenai/PWS State Park Office
Location: Mile 85 Sterling Hwy., Morgans Landing
Address: PO Box 1247, Soldotna, AK 99669
(907) 262-5581