How to Find a Township in MapGuide
To locate a specific township in MapGuide, select the 'Zoom GoTo' button from the tool bar. This tool is a magnifying glass with an arrow on top pointing to the right

.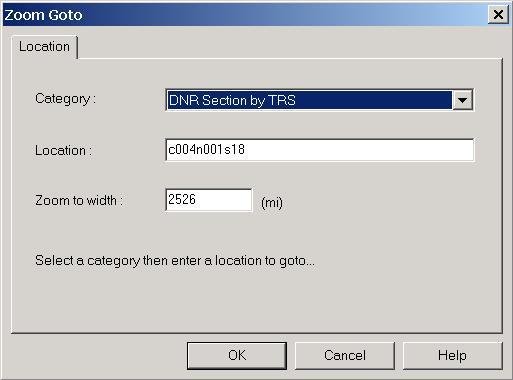 A window will pop up with several selections on a pull down menu. In the 'Category' pane you can select a particular township or township and section. To find an MTR, click on the down arrow and select 'DNR Township by TR' from the menu. In the location pane you will need to define the meridian, the township, and the range. To find a particular MTRS, select 'DNR Township by TRS' and include the section number after the MTR.

Although you do not need to use capital letters, syntax is important. Here is an example of syntax for a request of Township 4 North, Range 1 West, section 18, Copper River Meridian: c004n001w18. Note you must use three numbers for the township and the range, so leading zeros must be added. Again, the order is meridian (C,F,K,S,U are the possible choices), township (N/S), range (E/W), and section. The 'zoom to width' pane can be changed to a desired scale; however, the default setting will center the requested township on your screen.

Here is a powerful feature of this mapping application. After selecting a specific township, you can look at adjacent land in relation to that township by just zooming out. To do this, select the 'zoom out' button on the tool bar, the magnifying glass with the minus sign

, and left-click on the map in the location you want to be the center of the new map. This expanding view gives a regional perspective around a target area that you are interested in. Then, to look at the actual status plat, simply use the 'Status Plat' button on the toolbar, the little black & white map on the right

, to go directly to the DNR Land Records Website in a new browser window. This will allow you to look at both MapGuide and the associated status plat together.

Many times an action on the status plat goes across a plat boundary making it difficult to see the extent of an entire action. In MapGuide, once you've located a portion of the action you are viewing on the status plat, you can select that polygon, using the 'Select' button on the tool bar, and the entire action will be highlighted on your screen.

This will help you see the associated actions that may affect the area you are reviewing.

Please keep in mind; the data included in MapGuide is a digital representation of the information in the case file, as portrayed in the status plat database. The case file continues to be the official record for purposes of adjudicating a transaction.