Citizens' Advisory Commission on Federal Areas
The Commission will be meeting in Anchorage on Oct. 3, 4, & 5 at the Legislative Information Office, 716 W. 4th Ave, 2nd floor.
AGENDA CHANGES - The agenda for this meeting has changed due to the Federal government employee furlough. Thursday, October 3 was originally dedicated to Federal agency participation but has been adjusted to allow for discussion of the DRAFT Summary and action points identified at the August Summit.
LINK TO CURRENT AGENDA (updated 10/3/13)
This meeting is being streamed LIVE on Alaska Legislative TV. To view the meeting LIVE online visit www.AKL.tv
A SUMMARY of the Overreach Summit presentations, issues and possible solutions as prepared by Tina Cunning. (updated 9/25)
The Summit on August 12 & 13 was intended to document, and raise awareness of Alaska's relationship with Federal government agencies with respect to the management of Alaska's land and natural resource; with the ultimate goal to generate rational, collaborative, and effective actions which can be taken to our State and Congressional leaders.
For more on this Commission sponsored forum CLICK HERE to be directed to that page.

The History, Mission and Responsibilities of the Commission
The Citizen's Advisory Commission on Federal Areas (CACFA) was initially created a year after the 1980 passage of the Alaska National Interest Lands Conservation Act (ANILCA). It operated successfully to give a voice to Alaskans negotiating ANILCA's complex management rules and regulations until 1999, when state funding was eliminated.
The Commission was re-established after Representative Mike Kelly of Fairbanks introduced and won passage of House Bill 87, which Governor Palin signed into law on September 28, 2007. The Commission is responsible for identifying and reducing potential negative impacts on Alaska and its citizens from federal actions on any of the 239 million acres of federal land in the state, and "...shall consider, research and hold hearings on the consistency with federal law and congressional intent on management, operation, planning, development, and additions to federal management areas in the state." (AS 41.37.220(a))
Under the terms of the reauthorizing law, the Governor (G) appoints six Alaskans to the Commission who serve for four years; while the Speaker of the House (H) and the Senate (S) President may each appoint one legislator from their bodies, and two other Alaskans all of whom may serve for two years. Citizen appointees must represent the diversity of users and uses of federal land in Alaska.
The Alaska Lands Update, CACFA's monthly newsletter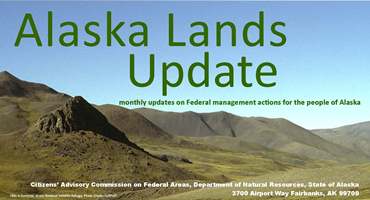 Current Edition
(updated 9/13)
Archive
Click HERE to receive the
Alaska Lands Update by email.
Meeting Information
CACFA meets three times a year, Juneau in February, Fairbanks in May-June, and Anchorage in October-November. This page contains past and present meeting announcements, agenda information, and meeting minutes. All meetings are open to the public and comments on agenda items or other issues related to federal land management in Alaska will be heard. There is generally two public comment opportunities each day of the meetings. For those who are unable to attend, there will be a toll-free number provided. When avaialble, CACFA's meetings will be streamed live on the internet.
The Commission will be meeting in Anchroage on October 3, 4 & 5, 2013 at the Legislative Information Office; DRAFT agenda (updated 9/25); Public Notice; Display Advertisment.

For additional information about the CACFA meetings or to receive the Alaska Lands Update, a monthly newsletter on federal land management issues, send an e-mail to the CACFA staff at dnr.cacfa@alaska.gov.

Current Projects and Documents under Review
CACFA members and staff routinely review and prepare comments on federal land management agency planning documents for compliance and consistency with ANILCA and other federal statutes. These include: Comprehensive Conservation Plans for National Wildlife Refuges; General Management Plans, plan amendments and Park Compendiums for National Park System Units; Resource Management Plans and Integrated Activity Plans for lands managed by the Bureau of Land Management; and U.S. Forest Service planning documents. We also regularly review National Environmental Policy Act (NEPA) documents on proposed management actions, as well as draft regulations and agency policies for the management of federal public lands. The Commission actively encourages the public to participate in the development and review of federal plans and all proposed federal land management agency actions. We invite and welcome input from the public on any issue related to the management of conservation system units and other federal public lands in Alaska.


(Updated 6/19/2013)
Correspondence
A catalog of formal comments, recommendations and appeal letters from the Commission, organized by date.
Annual Reports
The Commission Reports annually to the Governor and the Legislature by way of an annual report. This report provides an overview of the Commissions activities by calender year.