Revegetation & Erosion Control
Revegetation
Revegetation is the process of covering bare ground (usually raw mineral soils) with perennial plants, and it is one of the primary activities of the Alaska Plant Materials Center (PMC). The PMC has assisted score of agencies and private companies in reclamation, erosion control,and revegetation project design. If you are involved in a project that may require revegetation, please consult the Plant Materials Center at 907-745-4469.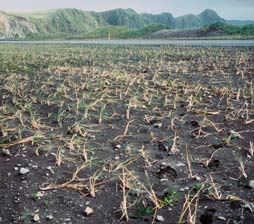 The PMC focuses on research, technology and knowledge transfer. Research priorities include the use of dormant seedlings to extend planting seasons, cost-effective methods of willow planting, and wetland ecosystem restoration. The PMC has gathered at least 275 plot-years of information from sites around the state, and developed eleven new cultivars and thirty-three natural "Selected Class" germplasms for release. These collections, as well as the nine cultivars developed by the University of Alaska Fairbanks (UAF) and the Agriculture Research Service (ARS), are maintained at the Plant Materials Center for use in revegetation and reclamation.
Alaska Native Plants & Revegetation
The Alaska Plant Materials Center is continually involved in propagation and testing of native plants through seed increase programs. The PMC supports the commercial utilization of native plants for revegetation and environmental reclamation for several reasons. By using native plant material, disturbed sites can be brought back to a condition as close as possible to what was there before the disturbance. This also ensures that there are fewer invasive species that would compete with native vegetation.
The Plant Materials Center maintains a Directory of Native Plant Sources, which lists commercial suppliers of grass seed, wildflower seed / plants, Alaska trees & shrubs, and revegetation resources.
Alaska Coastal Revegetation & Erosion Control Guide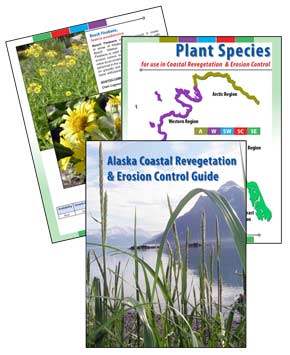 The Alaska Coastal Revegetation and Erosion Control Guide is an information resource created to assist professionals involved in construction or cleanup activities in coastal areas of Alaska. The guide includes information on techniques for planting, wild harvest, and the protection of fragile coastal resources.
This publication contains species suggestions, descriptions of vegetation communities, and detailed case studies for each region of Alaska, and features a step-by-step guide to planning a revegetation project. The guide includes plant profiles and case studies that are color coded to each region of Alaska, creating a reference that is easy to navigate.
The Alaska Coastal Revegetation & Erosion Control Guide was funded in part by a grant from the USDA Natural Resource Conservation Service. The guide is available to browse or download at http://plants.alaska.gov/reveg/.
---