Revegetation & Erosion Control
Erosion Control with Vegetation
Erosion (the displacement of solids by the agents of wind, water, ice, or movement in response to gravity) is a problem that growers, contractors, engineers, and other industry professionals have faced for decades. Erosion not only causes soil and nutrient loss, but it can also cause sediment loading of stream channels, which can have major impacts on fisheries and plant ecosystems. Increasing construction, urban development and climate change are just a few of the many causes of erosion.
Rolled Erosion Control Matting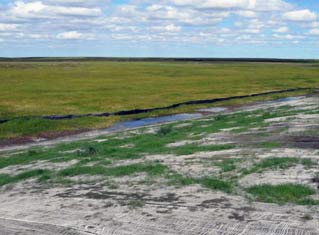 The PMC can offer technical advice and project assistance on erosion control issues that professionals deal with daily. Being aware of potential areas of erosion, as well as applicable federal/state regulations can greatly reduce future problems and allow for a successful project. The PMC only directly deals with erosion control issues not affecting life or safety. For these concerns, contact a professional engineer.
Stormwater Pollution Prevention Plans (SWPPPs) are plans that have been found to be effective in addressing erosion and sedimentation problems on construction projects larger than one acre in size. SWPPs are based on best management practices, and are required for certain construction activities. The PMC can assist in preparing the vegetation component of a SWPPP.
Three members of the Plant Materials Center staff have received certification as Alaska Certified Erosion and Sediment Control Leads (AK-CESCL).
Alaska Coastal Revegetation & Erosion Control Guide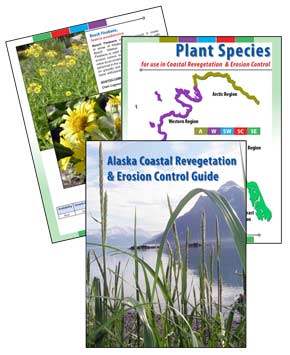 The Alaska Coastal Revegetation and Erosion Control Guide is an information resource created to assist professionals involved in construction or cleanup activities in coastal areas of Alaska. The guide includes information on techniques for planting, wild harvest, and the protection of fragile coastal resources.
This publication contains species suggestions, descriptions of vegetation communities, and detailed case studies for each region of Alaska, and features a step-by-step guide to planning a revegetation project. The guide includes plant profiles and case studies that are color coded to each region of Alaska, creating a reference that is easy to navigate.
The Alaska Coastal Revegetation & Erosion Control Guide was funded in part by a grant from the USDA Natural Resource Conservation Service. The guide is available to browse or download at http://plants.alaska.gov/reveg/.
---