Invasive Plants and Agricultural Pest Management
Invasive species are typically recognized as non-native species that once introduced accidentally or on purpose, spread beyond control to affect natural and agricultural resources or human health. Not all non-native species are invasive, and many are highly beneficial for agricultural or ornamental purposes.
Report These Invaders
The plants below constitute a short list of some of the most unwanted invaders to Alaska. These plants are either present in very limited numbers, or not yet known to be here at all. With the participation of engaged citizens, resource managers may find and control these weeds before they become widespread and negatively affect natural resources. To help, please follow the simple steps below.
Please become familiar with the plants identified below. Note where the plants are most likely to be found, when they bloom, and the key identifying characteristics. Pay extra attention to the bolded key characteristics that differentiate these invasive plants from plants that may be similar in appearance.
Purple Loosestrife
Purple Loosestrife
Lythrum salicaria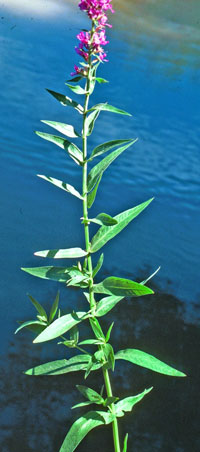 Where, When and What to look for:
Where:
Wetlands, bogs, cattail marshes, sedge meadows, stream banks, lake shores, ditches and other wet soils.
When:
Blooms July through September
What:
Rose to purple flowers. Stems are square and erect. Plants grow 3-8 feet tall. Leaves are opposite or whorled.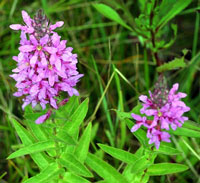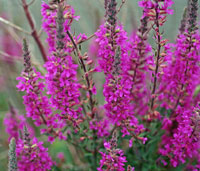 Report an Infestation
Species that look similar:
Common Fireweed: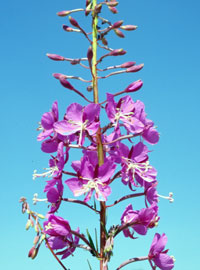 This native plant is extremely widespread in Alaska; generally does not occur in wet soils. Has purple flowers, leaves are alternate, and stems are round. Do not report.
Big Leaf Lupine: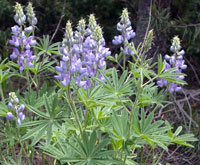 Purple flowers, common in Anchorage parks. Leaflets form a circular fanlike leaf. Grows on drier soils than loosestrife. Do not report.
Spotted Knapweed
Spotted Knapweed
Centaurea stoebe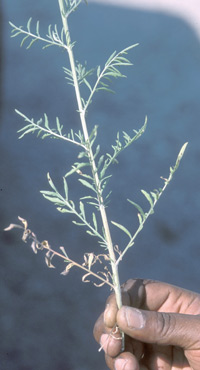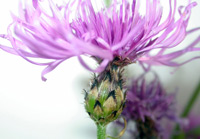 Where, When and What to look for:
Where:
Highways, railways, pipelines, grasslands, rangelands, shrublands and open forests
When:
Blooms June through September
What:
Pink, purple and white flowers that are 1 inch wide and urn-shaped. Stems 1-4 feet tall, many branched, with single flower on each branch. Leaves and branches have fine hairs giving it a greyish color.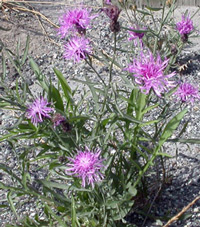 Report an Infestation
Species that look similar:
Canada Thistle and other Thistles: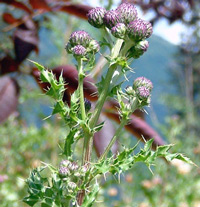 Thistles have spiny leaves. Report if seen outside of Anchorage.
Russian and other Knapweeds: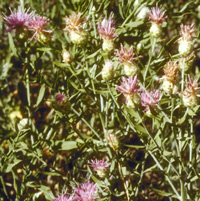 Look similar to spotted knapweed; are not known in Alaska. REPORT
Saussurea sp.: Native to Alaska, flowers similar to knapweeds. Few to no branches. Leaves are wider. Do not report.
Smooth Cordgrass
Smooth Cordgrass
Spartina alterniflora,
S. densiflora,
S. patens, and
S. angelica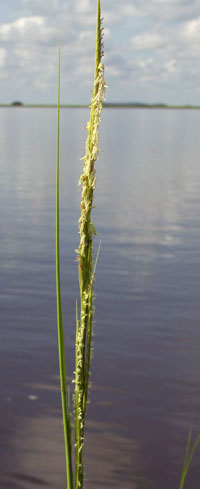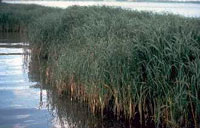 Where, When and What to look for:
Where:
Saltwater tidal marshes between high and low tide marks.
When:
Look throughout the summer.
What:
Plant ranges from 2-8 feet tall. Leaf blades are 8-24 inches long, greenish grey in color, tough, and narrow 1/4-5/8 inch wide and folded at the tip.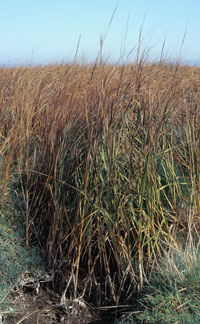 Report an Infestation
Species that look similar:
Saltwater Sedges: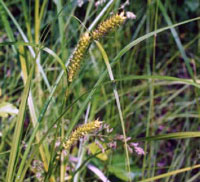 Grow in similar environment, and common in Alaska. Remember that sedges have edges while grasses and rushes are round. Cordgrass is considered a grass, and has round, hollow stems. Do not report sedges.
Beach Wildrye: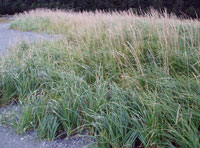 This grass grows on sandy beaches throughout Alaska and is commonly planted on roadsides. 2-5 feet tall, with wide flat bluish green leaves. Typically grows above average high tide marks. Do not report
Leafy Spurge
Leafy Spurge
Euphorbia esula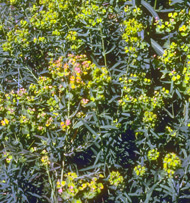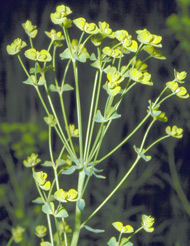 Where, When and What to look for:
Where:
Pastures, rangelands, waste areas, abandoned croplands, roadsides and areas of ongoing disturbance.

When:
Blooms July through September.

What:
Pale green plant grows 16-32 inches tall, leaves 1-4 inches long. Flowers are small, yellowish-green, and arranged in clusters.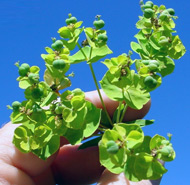 Report an Infestation
Species that look similar:
Cushion spurge: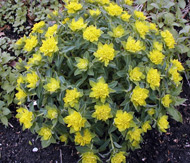 Commonly used in gardens and sold in greenhouses, this harmless plant has bright yellow flowers and is smaller than leafy spurge at only 10-18 inches tall. Do not report.
Giant Hogweed
Giant Hogweed
Heracleum mantegazzianum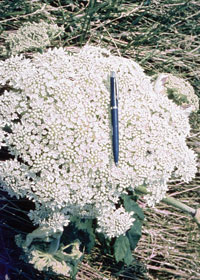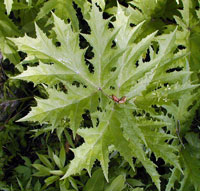 Where, When and What to look for:
Where:
River banks, streams, damp areas, roadsides, and places of waste disposal.
When:
Flowers and seed heads conspicuous July through September.
What:
Plant grows 10-15 feet tall, leaves 3-5 feet in width divided multiple times. Flower clusters are 1 foot or more in diameter.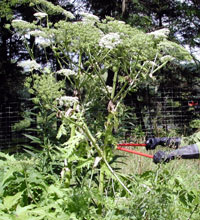 Report an Infestation
Species that look similar:
Cow Parsnip A.K.A. Pushke: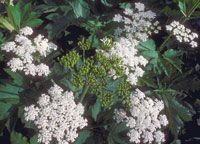 Native to Alaska, this plant is smaller in stature, rarely growing taller than 6 feet in height, and flower clusters are only 8-12 inches wide. Leaves are divided in threes and smaller than giant hogweed. Do not report.
IE is out of date
You are using an old version of Internet Explorer
Please update your browser!
Where, When and What to look for:
How about a better browser, for starters!
Species that look similar
How about Chrome
Report These Invaders!
If you encounter these invaders, please report them, noting the location of the invasive species. Take photos if possible and send them via the reporting form.
Avoid travelling through infested areas when you find them. It is extremely easy to carry seeds on shoes, clothing, animals, gear and equipment. Clean all potential seed transmission vectors after leaving an infested area as soon as possible.
Early Detection and Rapid Response is the most effective way to mitigate the invasive species threat in Alaska. Go to EDDMaps.org to report an infestation.
---